The Holidays at Ilvermorny: Kwanzaa and Yule
Dear Mom,
You would have loved my Magical History class today! You know how we've been having our fellow students present what the holidays are like for them? One of my friends (and fellow Thunderbird!) gave a presentation about her Kwanzaa celebrations today. Kamaria told us about the history and even had a sampling of her favorite foods that she and her family make during Kwanzaa.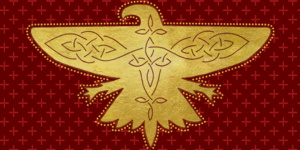 The holiday was created during the mid-1960s to create unity in African-American communities, honor the values of ancient African cultures, and inspire African Americans who were working for progress. Each of the seven days reflects a trait that they wanted to focus on. I don't remember the words that she used, but she said that there's unity, self-determination, collective work and responsibility, cooperative economics, a sense of purpose, creativity, and faith. They spend each day celebrating a specific trait. They have a big dinner on New Year's Eve to celebrate the community, and their family always makes sweet potato biscuits and gumbo for their neighborhood.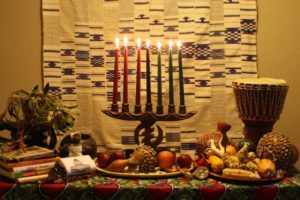 Kamaria then showed us the representations of each of the seven symbols. Just like there are seven days, there are seven symbols. The unity cup, the candleholder with seven slots, the seven candles representing the seven traits, fruits, a mat representing the unity of the community, an ear of corn, and gifts! Each one means something really important, and all celebrate unity and community.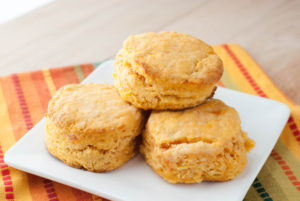 In the spirit of Kwanzaa, Kamaria brought in her mother's sweet potato biscuits with honey butter and we all got to try one! They were so good! I grabbed the recipe for you. I want to make them! Oh, and we can't use magic. Kamaria made that very clear. Her family believes in being connected to what you're making, and that means getting your hands dirty by peeling the potatoes and kneading the bread with your own hands. It sounds like fun and a great project for us! You're always looking for new No-Maj things to try for your No-Maj Relations job at MACUSA, so… it's a win-win!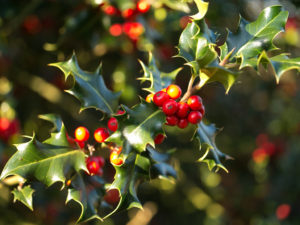 Then Ms. Gilderwise went on to explain how the Christmas and Yule traditions started with old witch traditions in the UK. Like how witches and wizards would bring in wand tree branches that house Bowtruckles into their houses during the winter solstice so that the Bowtruckles wouldn't die and that started the Muggle/No-Maj tradition of bringing evergreen trees into their homes and eventually lead to the Christmas tree. Same with the candles in the windows; witches and wizards would have ever-burning candles in their windows to welcome family and friends in from the cold. Then Muggles picked up the practice too. Ms. Gilderwise made everyone laugh by saying, "Muggle see, Muggle do!" You would have really liked class today.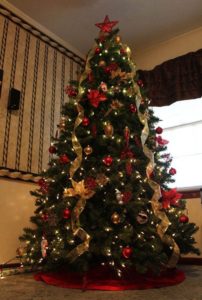 I have to say, I really like the whole message of community unity and family togetherness. We tend to forget what this time of year is really about, don't we? We get obsessed with presents and parties, bows and tags, outdoing the neighbor's light display, and everything else. Last year, we didn't even get to put up the tree until a week before Christmas because you were so busy with all of your work and club parties, doing all that charity work for the church, and that marathon. This year when I come home, can we just do the tree and bake together? Keep our celebrations simple? I'd really like that.
Missing you terribly,
Your favorite (and only!) daughter,
Maddie