The Dogs of Ilvermorny
Recently, Rover.com did a fantastic photo shoot with some of Ilvermorny's four-legged friends. Since information on the American wizarding school is still somewhat scarce, we gladly welcomed the insight they could share! Let us now introduce you to some of the finest puppies… I mean pupils!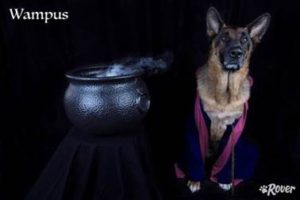 First, we have Apollo the German shepherd, who was Sorted into Wampus! He is in his third year at Ilvermorny, so he knows the school like the back of his paw! His friends describe him as a true Wampus – bold, brave, and fiercely loyal. Potions is his favorite class, and he hopes to one day find the right mix of ingredients for permanent flea prevention!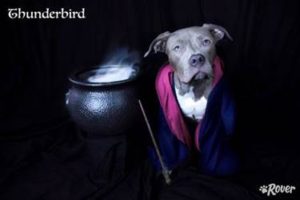 Next, we have our resident Thunderbird, the blue pit they call Midge! Here Midge is displaying their wand proudly, since they are a first year and only just received it! Midge is a proud Thunderbird, despite the misunderstandings often associated with the House. Described as cunning, shrewd, ambitious, and adventurous, this sense of adventure even led to Midge discovering a hidden room full of their favorite treats! Almost sounds like the Room of Requirement…

Here we have Coconut the Samoyed, a playful Pukwudgie with a patient, friendly spirit and an independent streak. This has made Coconut the perfect prefect! When not roaming the halls trying to help out first years (or catch troublemakers), Coconut can be found practicing Charms and enchanting their toys so that they can play fetch.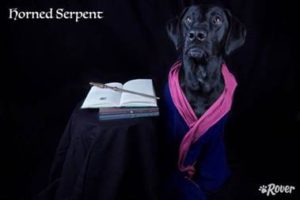 To round out the Houses, we have Della, the black Labrador, of Horned Serpent. She is a true scholar, often found in the library reading over Ilvermorny's illustrious history. Della strongly admires the MACUSA President of Newt Scamander's time, Seraphina Picquery. Since the two women both share a House and a strong ambition to do some good in the wizarding world, Della also hopes to act on her creative ways so she, too, can be in the government.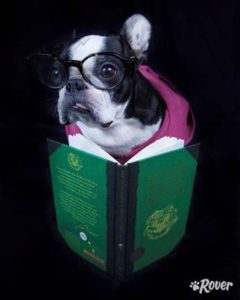 Finally, we have Gus the Boston terrier, who simply wanted to dress as his favorite hero – Harry Potter. He also enjoys reading the works of Newt Scamander and learning about all the magical beasts he can befriend.
We thank Rover.com and their cooperative participants! Learning more about the American wizarding school is always a treat… pun intended.