The Holidays at Ilvermorny: Hanukkah
Hey, Dad and Mom!
This is probably going to get to you barely a day before I get to come home for Winter Break, but I promised you guys a letter every week. I can't wait to come home! I miss you guys so much. I can't believe how lucky we were that Hanukkah is during Winter Break this year! I know you were worried about the accommodations for our holiday needs, Mom, but I learned a lot in our Magical History class today.
As I told you last week, we're learning about all the winter holidays and how they're celebrated here at Ilvermorny. Last week, we did Christmas, and this week was Hanukkah. I did my presentation about what our Hanukkah is like, being of Ashkenazi lineage, and told them about our family menorah that you got from your mother who got it from her mother who got it from her husband who special-ordered it for her for their first house. Thanks again for sending the pictures. Everyone really loved them!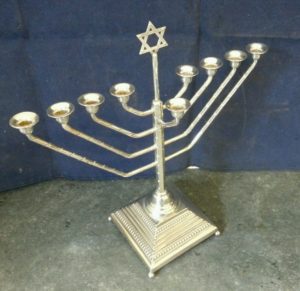 After my presentation, our teacher, Ms. Gilderwise, asked us what we knew about World War I and World War II. While most of us knew the basics, she told us that during the 19th century, anti-Semitism was on the rise in Europe, leading to a large influx of immigrants to America during the 1880s through early 1900s. Most immigrants were No-Maj Jews fleeing Europe and the beginnings of war and intolerance, but they brought with them their as-yet-undiscovered magical children.
How were they to know which rabbis to go to when their kids started shooting magic out of their fingers? And they didn't know of the exclusive Jewish magical academies in New York and Los Angeles either. Ilvermorny sent them letters like the one that I got, and the kids went. Then the parents and a magical rabbi that the house-elves managed to find built the Passover room with its own separate kosher kitchen. The house-elves that cook in there are instructed by that magical rabbi, and they get all of their ingredients from kosher butchers and grocers. They tend to stick more to the Sephardic version of kosher, but they will do kosher our way without grains at all if I let them know.
They do Passover and Hanukkah celebrations in there. Cory says it's like a giant living room. They have a menorah that was given to the school by one of the first Jewish families here, and every student tends to leave something when they leave school to add to the room. Cory says it's a great place to see the history of the Jews at Ilvermorny. I'm going to take some pictures for you so you can see it for Passover. 
I miss you guys so much and I can't wait to see you!
Love,
Benjamin