Dress Up Your Pet Day: "Potter" Edition
Silly holidays are always a fun treat. When you can add your pets into the mix, it makes it so much better! We had the MuggleNet staff send in pictures of their animals dressed as their favorite Harry Potter characters for Dress Up Your Pet Day, which is observed today! Take a look at some of our furry friends and their adorable costumes! (Please note: All animals pictured were given love and treats after their cooperation for these photos.)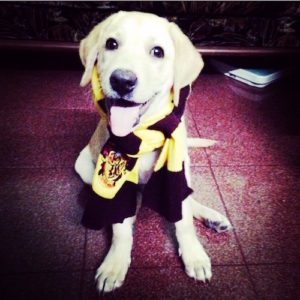 Here's what Disha had to say about her Gryffindor, Theodore: "He's just three months old [and] responds to 'Theo'. He is playful [and] bites a lot [but] loves a lot too. [He] welcomes everyone to his home [and] loves to meet new people. [He] cries when he thinks I am leaving him and going away. [He] eats a lot, loves chewing everything [i]n sight, [and] has a tortoise stuff[ed] toy that he loves and holds on to while he sleeps. [He] looks adorable in oversized T-shirts."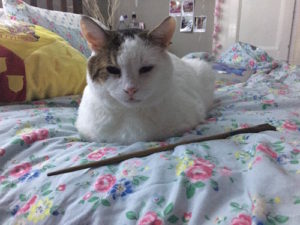 Lizzie G. has this to say about her cat, Rex: "So although Rex is a cat the size of the dog, who is the fluffiest, soppiest, dude ever[,] he's a rescue cat. He was badly abused and then was a stray before being rescued. It's taken a lot of work to get him to come out of his shell and boy[,] is he! So I wasn't sure I'd be able to get a photo of him with props…. BUT!!!! I got one of him posing (he loves his photo being taken) and then got him to play with Newt's wand, hehe."
Next, we have Ameythist's cat, Newt! "Newt is 5 months old, and quite the little adventurer! He's always exploring, and he has such a way with the other animals in our house. Newt definitely takes after his namesake!"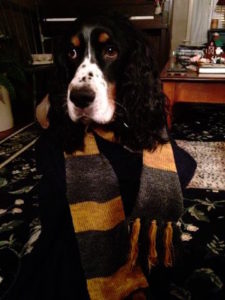 Amy H. has two dogs, and she dressed both of them up! About Remus (pictured above) she says, "It's only fitting that Remus model some Newt[-]inspired clothing since the quote 'I annoy people, mostly' pretty much sums him up. He means well, but you need a sense of humor to make it through a day with him. From stealing your shoes to performing never[-]ending concerts with his squeak toy, he's certainly a character."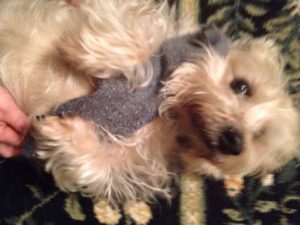 On Dobby: "Dobby is a house[-]elf through and through. We've tried giving him clothes, but he still trips us in the kitchen… he seems to think every task involving food requires his assistance. Loyal to a fault, he's always on your heels no matter where you go in the house."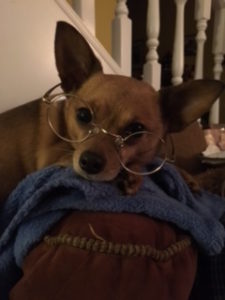 Pictured here is Effy, my own mother's dog. She's dressed as the boy wizard himself, Harry Potter. My mom says, "Effy is like a little red fox. She's cuddly, funny, and has a quirky personality. She likes to tilt her head a lot."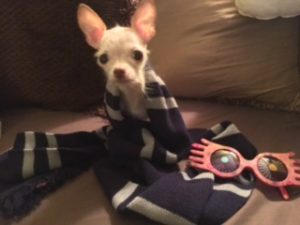 Here we have my dog, named after Luna Lovegood! Naturally, I had her dress as our favorite Ravenclaw, complete with Spectrespecs and a Ravenclaw scarf. My Chihuahua is quirky and loyal like her namesake but far sassier and lazier!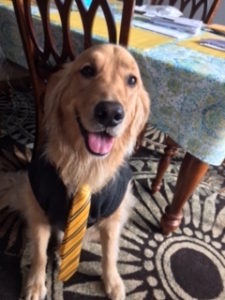 This here is my boyfriend Stephen's dog. (It seems MuggleNet has a lot of Hufflepuff pets!) Stephen's thoughts on Finn: "He's a caring, cuddly, and codependent Golden that loves to chase a stick and find a ball." Sounds like a true Hufflepuff to me!
That wraps it up for our pets! Why don't you post some pictures of yours in the comments? It is Dress Up Your Pet Day after all!