Where Will You Celebrate 2017's Harry Potter Book Night?
In just under two weeks, the now annual Harry Potter Book Night will take place across the world, celebrating the Harry Potter series with activities, parties, quizzes, and more! The theme for 2017's Book Night, announced last year by Bloomsbury UK, is Professors of Hogwarts, and here at MuggleNet, we're looking forward to celebrating our favorite magical professors.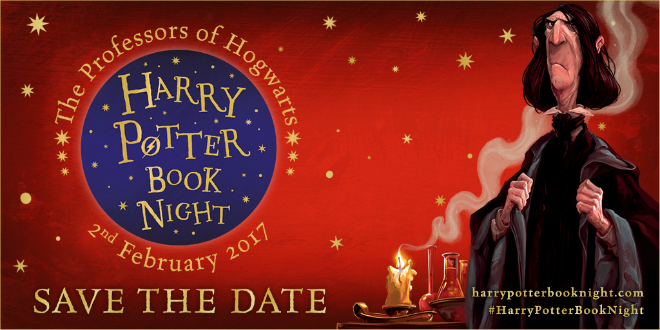 This year, the Book Night is due to take place on February 2, and once again, Waterstones' flagship store in Picadilly, London, will host a magical night of fun and games, celebrating the Harry Potter series and the teachers who are featured throughout the series. In previous years, MuggleNet has been there to join in the fun, and we're looking forward to attending again this year. The store encourages visitors to come dressed up as their favorite professor or in House colors and shares a little more about what to expect at the event.
Explore the castle, but don't be late because lessons will be starting at 6:30pm sharp! What future will you divine for yourself, and will you brew the perfect Polyjuice [P]otion? Can you ace our Defence against the Dark Arts quiz and get an 'O' in our wand challenge[?]

With beautiful prints on display from the talented MinaLima, more butterbeer than you could shake a broomstick at and much more to be announced, this is one Potter [p]arty you won't want to be petrified for!
Tickets are available here, as well as more details about the night and what to expect. Many similar events will be taking place all over the country, including the great Harry Potter family quiz at Waterstones Northampton.
You can also register for the official Harry Potter Book Night Bumper Quiz pack until January 23, if you're hosting your own quiz, and if you're an organizer, you can enter to win this exciting prize – for the most creative and best-decorated party!
MuggleNet will be in attendance at events all over the world, as usual. Here are some of the places where you'll find some of our staff members (although more will be added!), so if you're attending one of these events, then be sure to look out for them and make sure to say hello.
GATAfunho, Lisbon, Portugal
Waterstones Picadilly, London, UK
Waterstones Deansgate, Manchester, UK
Joliet Public Library, IL, USA
Make sure to check with your local bookshop or library to see if they're hosting an event this year, and let us know where you'll be attending this year in the comments!