David Yates and Katherine Waterston Discuss Deleted Graves Scene in Exclusive Interview!
Fantastic Beasts and Where to Find Them is now available to own on digital, DVD, and Blu-ray, and with it, come the much-anticipated extra features. In addition to the interviews, production stills, and 360° videos, there are 11 deleted scenes ready for eager fan dissection! But one in particular caught our attention.
Set after the pastry suitcase debacle at MACUSA, Tina and Newt are about to go down in the elevator when Graves stops them. He encourages Tina, tells her not to worry about Seraphina Picquery, and at the very last moment, wipes that pesky smudge of mustard from her top lip. An absolute tease of a scene, it has raised a whole host of new questions for both characters.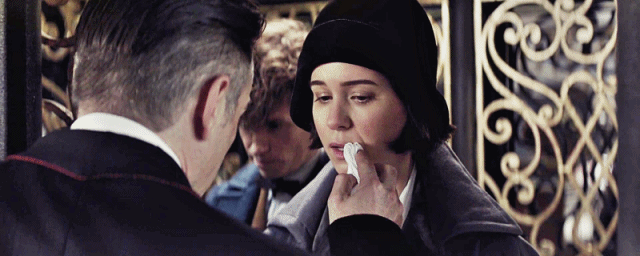 Fortunately, MuggleNet was given the opportunity to catch up with David Yates and Katherine Waterston ahead of the film's DVD release, and we couldn't wait to ask them all about it!
Yates: I love that scene. It's one of my favorite… [it] came out about halfway through the editing process. But I love it. I love the way Colin [Farrell] does what he does. Their relationship is really intricate. But what it did was it set something running in your head about you wanting more of that in the rest of the movie, and then we went somewhere completely different with it. So it sort of set up a false promise in a way.
It certainly does that! Do we ship it? Should we ship it? And how does Tina feel about the Graves she thinks she knows?
Katherine Waterston: I think that at the beginning of the film, Tina is in awe of her boss and thinks he's a great man and wants to show him her dedication to her work and that she's good at her job. She definitely wants to please him, and I think that there might be a little bit of a crush there, but it's not something in a sense that she articulated to herself. And of course she only wants to be at her best self around him, which is what's, I thought, so great about the mustard scene. It's absolutely mortifying that she thinks she's really taking care of business, and she looks ridiculous and is called out for it.
Certainly, these complexities in their relationship only make the big reveal hit harder.
Katherine: I think it's a really heartbreaking moment for Tina, obviously, when he sentences her to death, not just because she doesn't want to die but [also] because she never imagined that he would do such a thing to her. And in a way, it's that scene where he sentences them to death – that's the real kind of 'pull the mask off your face' reveal scene in a sense because she discovers this person she looked up to is not so wonderful or admirable after all.
We may not be any closer to a confirmed Grindlegraves timeline, but this scene builds nicely on Tina's character and offers up another Graves delight to dull the pain of his future absence!
The full transcript of our interview with Katherine Waterston, as well as our conversations with Alison Sudol and Dan Fogler, David Yates, and Eddie Redmayne, can be read here.