David Thewlis to Play the Villainous Ares in "Wonder Woman"
With the Wonder Woman film debuting in June, fans can take comfort in knowing that the villain will be played by none other than David Thewlis!
Although it may be peculiar to see Thewlis, who played our favorite werewolf-wizard in Harry Potter, take on such a fearsome character, we are pleased to provide fans with a first look at his character, Ares, in action.
And just as Thewlis is expanding his acting roles, so too are Evanna Lynch and Jude Law!
From this clip, viewers can see Thewlis in his human form as Sir Patrick Morgan and then as Ares surrounded by fire. No doubt, Thewlis would be used to the versatility of such roles having played Remus Lupin, who, as we all know, transformed into a werewolf once a month at the full moon.
However, Ares, who is nothing like our beloved Moony, is an ancient villain with a love for conflict and war. Since Wonder Woman is set during World War I, fans will get the chance to observe a behind-the-scenes look at how Thewlis's character plans the destructive event.
To emphasize his love for war, Ares will be wearing plated armor and a helmet in stark contrast to the fancy suit Thewlis wears for his disguise.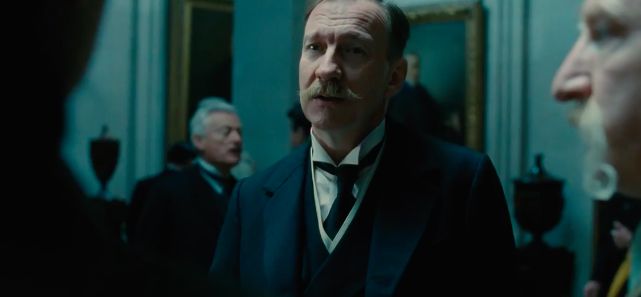 Interestingly, Ares has a tough task ahead of him – to fight Wonder Woman herself and fulfill his dream of causing eternal war on Earth! And to think we were worrying about our Potions finals…
With a release date of June 2, 2017, Wonder Woman is sure to attract viewers with an all-star international cast, including Gal Gadot, Chris Pine, and David Thewlis.
What do you think of Thewlis's new role? Are you excited to see Wonder Woman? Let us know in the comments below!