"Fantastic Beasts" Has Found Its Dumbledore!
Announced only moments ago by Pottermore and tweeted by the official Fantastic Beasts account, the next film in the Fantastic Beasts series has finally cast its Dumbledore!
Welcome to the Wizarding World family, Jude Law! https://t.co/axrt5P9fXP

— Fantastic Beasts (@FantasticBeasts) April 12, 2017
While not included in MuggleNet's fan cast article on whom we thought should play the younger version of Albus Percival Wulfric Brian Dumbledore, the film has recruited actor Jude Law to portray the young professor in the next film.
Pottermore has revealed that the film will introduce Dumbledore not as Headmaster of Hogwarts, but as a Transfiguration teacher at the magical school.
Director David Yates commented on the casting, throwing his full support behind the two-time Academy Award nominee.
Jude Law is a phenomenally talented actor whose work I've long admired, and I'm looking forward to finally having the opportunity to work with him. I know he will brilliantly capture all the unexpected facets of Albus Dumbledore as J.K. Rowling reveals this very different time in his life.
President and chief of content at Warner Bros. Pictures Toby Emmerich also backs Law's casting.
As fans ourselves, we are thrilled to have Jude Law joining the 'Fantastic Beasts' cast, playing a character so universally adored. Jude has been a member of the Warner Bros. family for years and we're excited to embark on this new adventure with him.
While no immediate personal reaction has been released from J.K. Rowling herself, she did retweet the announcement from the official Fantastic Beasts account.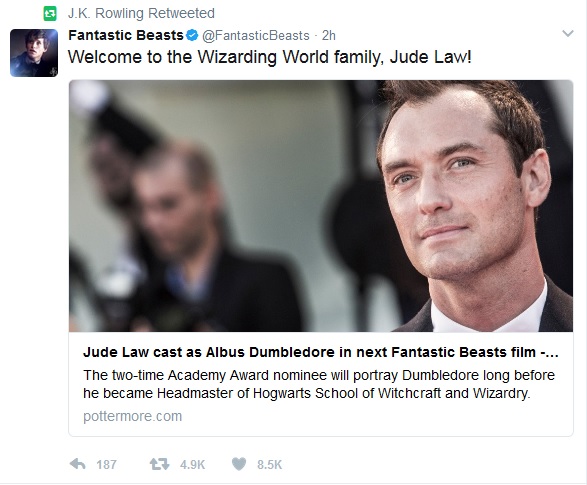 Law has a ton of Potter connections already, having worked with Johnny Depp, Helen McCrory, and Richard Griffiths, just to name a few. The sequel to Fantastic Beasts is scheduled to be released on November 18, 2018.
We are excited to see where he will take the role! Tell us what you think about the casting of Jude Law as Dumbledore!