Harry Potter and the Chosen Ones: Simon Snow
Simon Snow, the main character in Rainbow Rowell's Carry On, is perhaps the easiest fictional Chosen One with whom to compare Harry. That's because Rowell's hero was inspired by all the literary Chosen Ones we know and love.
Simon was in fact born out of the massive amounts of Harry Potter fan fiction that Rowell read while writing Fangirl, a book whose main character is obsessed with a fantasy series and is one of its most prolific fan fic writers. Rowell couldn't leave it at that and decided to write the final book in this imaginary series.
It's easy to see the similarities between these two young wizards—or mages, if you will—who grew up as orphans, their parents' deaths a mystery for most of their lives. They both attend a school of magic, where they discover that they were both bestowed great power at an early age.
While Harry is famous for the feats of magic he performed as a baby, his magical ability while he attends Hogwarts is fairly average—aside from his skill in performing a Patronus Charm. Simon, on the other hand, possesses power so great that it's beyond his understanding and his control.  They are both helped through their magical education by incredibly smart women. Harry has Hermione Granger and Simon has Penelope Bunce.
The magical worlds of Harry Potter and Carry On are not exactly mirrored images of each other. As Simon learns at Watford, magic in the World of Mages gains its power through words and thus evolves as language does. Simon often struggles to give his words power, while Penelope has quite a knack for it.
Harry and Simon receive a certain level of scorn from old wizarding families. Much like Harry has a feud with Draco Malfoy and his family, Simon has spent his entire magical education despising and being despised by his roommate Baz, the heir of the ancient and rich Pitch family. Simon suspects Baz of being a vampire and dedicates an inordinate amount of energy to prove it. One of the many ways in which Simon and Baz's relationship differs from Harry and Draco's, however, is that Baz's family has no connection to the dark power that is menacing their world.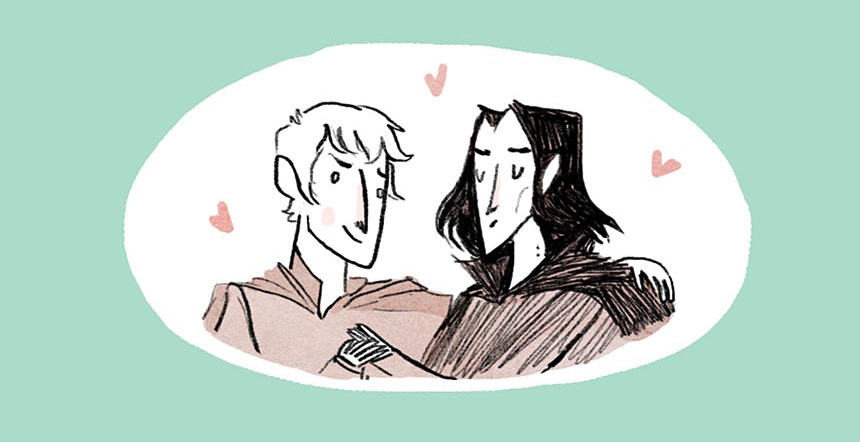 Where Harry's world is threatened by Voldemort, Simon's world is in danger of being depleted of its magic by the Insidious Humdrum. This mysterious villain is slowly draining any area he touches of its magic, and all magical families are equally afraid that magic will soon disappear entirely.
Both of these Chosen Ones share a deep connection with the villain. Harry's is exhibited through the pain in his scar when Voldemort is near, his ability to see into the Dark Lord's mind, and the link between their wands. Simon's ties to the Humdrum are much more obvious—the dark being takes the form of an 11-year-old Simon.
Simon has had to defeat many dangers during his time at Watford, but the Insidious Humdrum proves to be the most challenging adversary. Simon looks to the Mage, who has been his mentor throughout his magical education and who has made Simon his heir, for help, but the Mage is nowhere to be found as the threat grows. Simon begins to question his father figure, much like Harry must question Dumbledore as he learns that there is more to his hero than he ever knew.
Their friends help them along the way, but in the end, both Chosen Ones must face the evil on their own. It's their destiny to sacrifice everything for the sake of their magical worlds and the people they love.
While Simon was heavily inspired by Harry and their journeys share many similarities, Simon Snow is not Harry Potter. They share many traits of a Chosen One—like being stubborn beyond belief but caring deeply for their friends—but in the end, Simon's destiny is his own. After facing the Humdrum, Simon doesn't get the tidy epilogue that Harry does, but he lives to find out who he really is now that his predestined path is behind him. Simon must, after all, carry on.