MuggleNet Interviews Emporium's Creative and Beverage Director, Jared Saul
At the end of October 2016, Chicago's Emporium Arcade Bar debuted a Harry Potter-themed beer. It was an elderberry-tinged sour ale called Polyjuice Potion, the love child of Emporium and Indiana-based Central State Brewing. The release party for the beer was incredible. Everything from the Dark Mark-inspired beer label to Quidditch beer pong to the guests' costumes was on point. Emporium even got the surf bar next door to come up with themed shots and to coordinate the looped screening of Order of the Phoenix all night long.
April 6 is New Beer's Eve, and April 7 is National Beer Day. What is New Beer's Eve? It's the allowance for taverns to legally sell beer, of course! On April 7, 1933, President Franklin D. Roosevelt's enactment that public houses could once again serve beer after years of Prohibition came into effect. Obviously, to celebrate, patrons lined up outside pubs and taverns on April 6, 1933, waiting for midnight to hit. Thus, New Beer's Eve and National Beer Day came into existence.
Happily, I was able to interview both the Creative and Beverage Director of Emporium, Jared Saul, and the co-founder and Head Brewer of Central State Brewing, Josh Hambright, for these auspicious holidays. Read on for the interview I conducted with Jared and stay tuned for Josh's interview tomorrow!
MuggleNet: Hi Jared! Briefly introduce yourself and what you do at Emporium.
MN: What is your background with beer?
MN: April 7 is National Beer Day. How do/would you celebrate this day? What is your favorite/go-to beer?
MN: What beer are you drinking right now? What beer do you recommend drinking on April 7?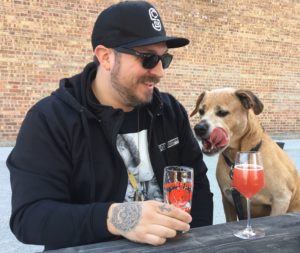 MN: What is your favorite thing about beer?
MN: What's your favorite bar in the city (excepting Emporium, obviously)?
MN: Who/what introduced you to the world of Harry Potter?
MN: Do you think there is a big Potter community in Chicago?
MN: Can you describe Polyjuice Potion (the beer)? Why did you decide to go with the sour beer?
MN: How did the collaboration happen between Emporium and CSB? Have you collaborated together before? If not, why Polyjuice Potion?
MN: Do you have another collaboration in the works?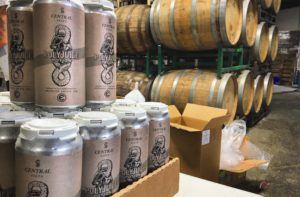 MN: Who came up with the design of the label?
MN: How did you plan for the release party? Why choose Order of the Phoenix as the only Potter movie to stream on a loop?
MN: What is a drink or food you desperately wish existed in the Muggle/No-Maj world? 
MN: Is there anything else you'd like to say?
JS: Just because it's happening inside your head doesn't mean it's not real!