MuggleNet Rebrands Itself for New Era in the Wizarding World – But Why NoMajNet?
After 17 years as MuggleNet, you may be wondering why we have decided to rebrand as NoMajNet. There were several reasons, and we'd like to explain them to you!
First and foremost, it seems pretty clear that Harry Potter is, well, dead.
We know he came back at the end of Deathly Hallows, but there was something going on with that Time-Turner in Cursed Child. No one is paying attention to a boy wizard anymore, are they? We have so much more to be excited about. Like it did for Ilvermorny founder Isolt Sayre, the future lies in America, and with Fantastic Beasts. As such, we decided to rename ourselves using the American term for magic-deficient people.
Second, it seems clear to us that the Fantastic Beasts and Where to Find Them series is going to be a much bigger deal than Harry Potter ever was. A quick look anywhere on the Internet will reveal just how much the world has fallen in love with Newt Scamander, Tina Goldstein, Jacob Kowalski, and Queenie Goldstein. Who cares about the golden trio anymore? It's all about the core four!
It has also been made very clear to us by you, our amazing readers and followers, that you aren't interested in reading our opinions.
Unfortunately, due to the publication of recent controversial opinions, we have had a severe drop in our following. You're telling us that we suck, just so very much, and we get it – we hear you. WE. SUCK. You hate it when we provide an opinion that even differs from the so-called "norm" even a minutiae, so we plan to fix that. We have decided that we need to seek other means to support the site, so we have turned to advertising. Where we haven't had a single advertisement on MuggleNet in well over a year, you will now see so many that it'll hurt your precious eyeballs – and we are so excited for it!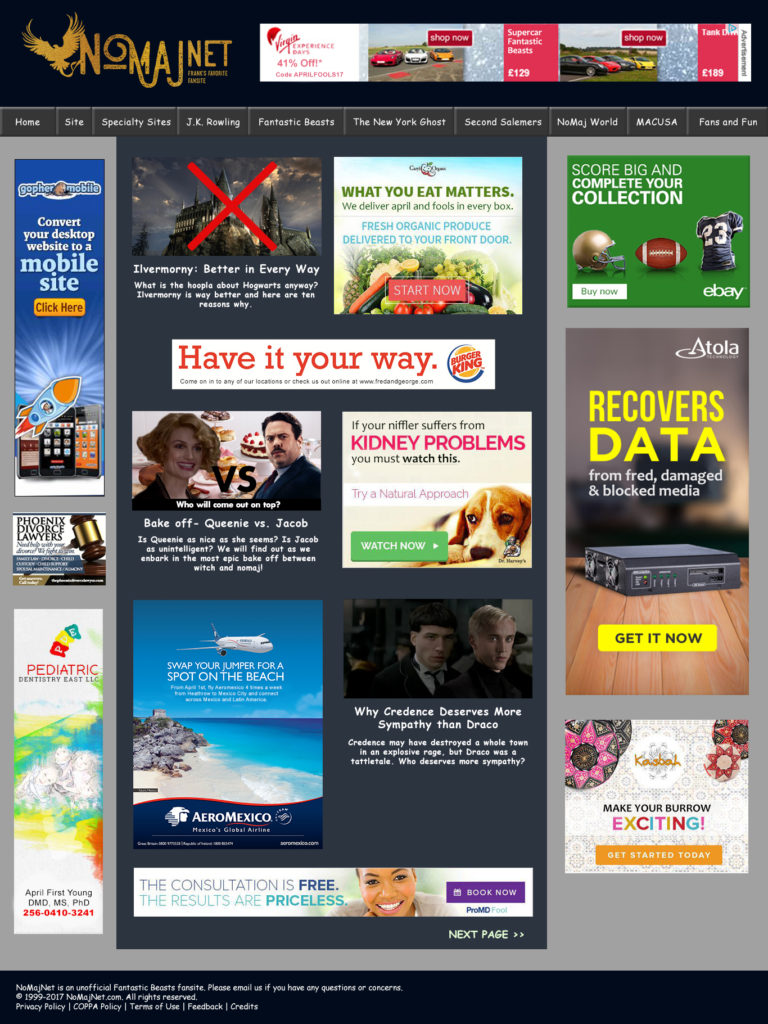 With this rebranding will come some exciting shifts in focus. "Rosmerta's Recipes" will become "Grandma Kowalski's Recipe Book" – sure to make you just as much of a baking star as Jacob! We'll focus a lot more of our analysis pieces on Legilimency and the art of wrangling magical creatures, as well as the plight of wizards and witches in America – but don't worry – we won't insert a single opinion or editorialized comment. It will be 100% news, all of the time. And of course, Ilvermorny Houses will be used exclusively to Sort everyone! More changes will be revealed, so keep a lookout as we unveil new content.
So… shall we change, just a little?