It's All About the Puffs in "Puffs, or: Seven Increasingly Eventful Years at a Certain School of Magic & Magic" – Review
If you haven't seen Puffs, or: Seven Increasingly Eventful Years at a Certain School of Magic and Magic, I need you to go buy a ticket immediately. Plan a trip to Manhattan, and see this gemstone while you can. I can promise you won't regret it.
Haven't heard of Puffs? The clever 90-ish-minute play, written by Matt Cox, coincides with Harry's story but focuses on the Puffs of the school. You'll see some of your favorite Braves, Smarts, and Snakes – but make no mistake, this one is all about the Puffs.
Wayne (Zac Moon) is an orphan (his parents were in a "freak Chocolate Frog accident") from the state of New Mexico and finds out he's a wizard and is supposed to go to wizard school in England. There, he meets Oliver (Langston Belton), a math savant who had moved from the United States to study at Oxford and is now "just a wizard." He also meets Megan (Julie Ann Earls), the daughter of one of He Whose Name They Don't Like To Say most loyal followers. They're all Puffs. There's Leanne, J. Finch, Susie, Sally, Hannah, and Ernie Mac – of course, there's Cedric.
The play is narrated by the impeccable A.J. Ditty and breaks down the story by books, including Year 4: The Puffs and the Year They Mattered. The cast is small, and everyone plays multiple characters, but you can always tell who is playing who, leaving you fully in the know for the entirety of the show. That might be part of what makes this show so spectacular. The actress who plays Harry (Madeleine Bundy) later on becomes a scary accurate Moaning Myrtle.
The jokes thrown into this parody are clever, and clearly written by a fan for fans to enjoy. You have book jokes, film jokes ("I am very calm." – Dumbledore), and even some Cursed Child and Fantastic Beasts jokes. They're interwoven into the story and natural, the type of jokes any fan would make at a convention with friends.
In all honesty, the production is so well done that I've come to accept it as a part of my Potter canon. The script is pure, honest, and delivers an incredible message about how everyone has some Puff in them. Sometimes the show is hard to watch since you know what's going to happen next. When Wayne becomes attached to Cedric, his ultimate hero and mentor, you can't help but hope the part where Cedric dies never comes, but it does.
I'm lucky to have seen the production a few times (I can't get away!) and seen multiple actors play different roles. I've seen both James Fouhey and Jake Keefe play Cedric (and another character that I won't spoil), and they play him so differently but with such suave and cool that I could never pick between the two.
You quickly fall in love with these new characters, especially the new trio of Wayne, Oliver, and Megan, and you'll be in stitches from laughing for 80 of those 90-ish minutes. This is truly a win for all of the Hufflepuffs of the world, and I sat between two at the production on Saturday. We walked out and they simply agreed it was the story of their Hufflepuff lives.
The story continues throughout the entire theater, where mock posters for other shows are hung such as Dude, Where's My Fantastic Beast?: A Play in 5 Parts, and school announcements are made by Professor McGonagall, Hagrid, and others.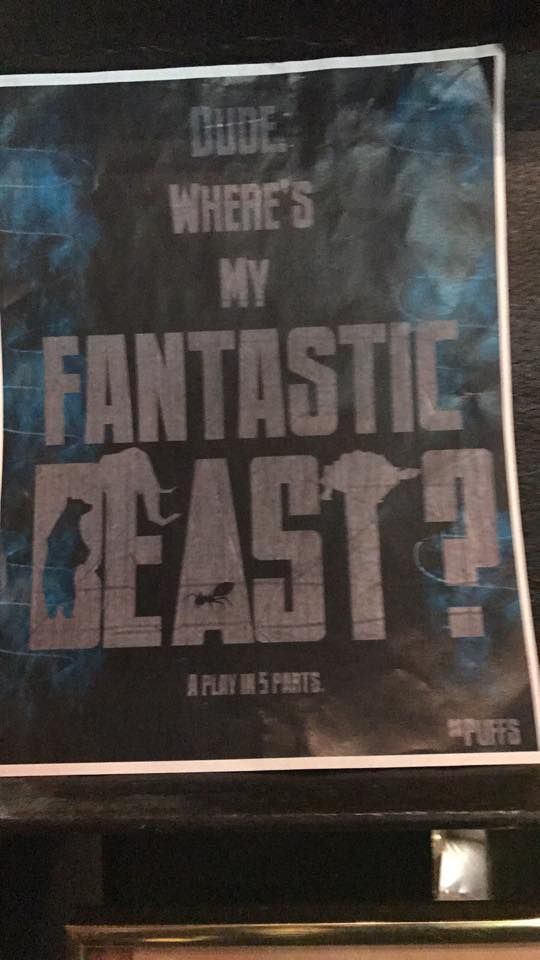 My favorite moments? Snape's sex ed class, Cedric in the bathroom deciphering the Golden Egg, any time Harry was carrying Ron around (yes, carry), and Leanne's slumber party.
I desperately hope this show continues for a long time, selfishly so I can continue to go see it. You can learn more about the production and how to purchase tickets at http://www.puffstheplay.com/.
Special thank you to the cast and crew for allowing us to review this production.