Independent Bookshop Week Honoring "Harry Potter" 20th Anniversary
Mark your calendars , UK and Irish Potterheads, because you're not going to want to miss this: an exclusive, limited-edition book bag commemorating the 20th anniversary of the publication of Harry Potter and the Philosopher's Stone! Only available during Independent Bookshop Week, June 29–July 1, 2017, this bag features new House crest illustrations and reminds us, "You'll always find a home at Hogwarts."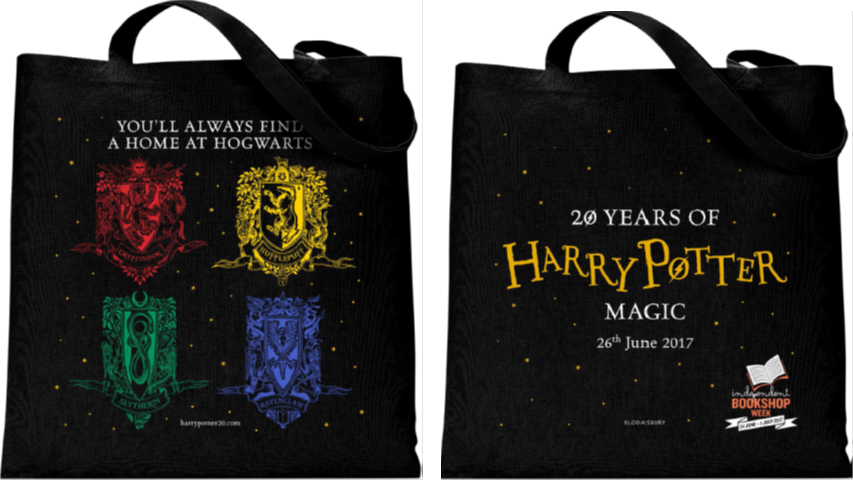 The four coats of arms, with elements chosen to highlight virtues of each House, were created by award-winning illustrator Levi Pinford for Bloomsbury's 20th anniversary House editions of Philosopher's Stone.
In the Hufflepuff crest, there are beech leaves to symbolize tolerance and a little lamb to show gentleness. In heraldry, gold or yellow is seen to represent generosity.

The crescent in the Slytherin crest represents glory and honor. Slytherin green is for endurance, and the dragon-like cockatrice suggests Slytherins are fierce warriors.

Gryffindor red is meant to signify military strength, a unicorn is for purity and courage, and the antlers are for strength and agility.

The Ravenclaw crest gets a parchment scroll to symbolise academic achievement, an owl for wisdom, a spearhead for sharpness of wit, and a book for knowledge.
Part of the Books Are My Bag campaign, Independent Bookshop Week celebrates independent bookshops in the UK and Ireland. With each local bookshop hosting events such as reading groups, storytelling, author signings, literary lunches and face painting, there is sure to be something for everyone. Find out if your local shop is participating here. Let us know below if you will be lining up at your favorite shop to score one of these limited-edition book bags!