Role Call: Flash Forward
In this week's casting news, we get a look at the Flash in action, we explore the tensions between Tom Felton and his Flash co-stars, and we train our eyes on the newest cast member of the Fantastic Beasts sequel, plus much more!
The first photos of Jude Law at the Barbican Theatre in his new play, Obsession, have surfaced. The production runs through May 20, and you can find more about the play here.
Even MuggleNet Live 2017: Nineteen Years Later guest Rohan Gotobed was excited to see the performance, snagging a selfie with the newest actor slated to portray the younger version of Albus Dumbledore!
Saw #Obsession at the Barbican tonight – an amazingly well directed show; stunningly European. pic.twitter.com/oJdsA2Ns13

— Rohan Gotobed (@Rohan_Gotobed) April 19, 2017
Speculation continues to build around the possible return of David Bradley, a.k.a. Argus Filch, to the Whovian universe as the very first Doctor. Bradley has only fed the rumor, telling media that even he is unsure about his return.
Well, who knows? You didn't hear it from me – that's all I can say.
Sir Kenneth Branagh's next film, Mindhorn, has a new trailer and a clip featuring the actor. The comedy will premiere in UK theaters May 5.
Absolutely Anything, a film starring John Cleese and the late Robin Williams, may finally have a release date after distribution rights were acquired by Atlas Distribution Co. The company appears to be shooting for a May 12 limited release in the US. You can see the trailer below.
While we've yet to tune in to see if this is true, Dan Fogler's appearance on the red carpet lends a bit more truth to the rumor! Reportedly, Dan will appear on this season of Famous In Love as a celebrity. Whether he will portray himself or some created character is still unclear.
Love this @FamousInLoveTV pic! @bellathorne w/ two of our celebrity cameos, Ryan Phillippe (@Shooter_USA) @mrdanfogler (@FantasticBeasts)! pic.twitter.com/iz8QITqxSW

— Dan Farah (@Dan_Farah) April 19, 2017
Fear the Walking Dead is back this June, and Frank Dillane features heavily on the AMC poster released last week. What does this mean for his character? Only time will tell!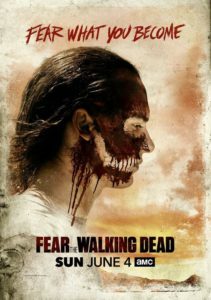 Colin Farrell's new film, The Beguiled, is ready to hit theaters this June, but we've gotten our hands on the trailer. Before you start batting your lashes in Colin's direction, you might want to read the synopsis, as it sounds like he's playing a bit of a cad!
After an injured Union soldier (Colin Farrell) is taken in by the sheltered women, they tend to his wounds. Conning his way into each of the lonely women's hearts, the house is taken over with sexual tension and dangerous rivalries, causing them to turn on each other, and eventually on him.
Check it out!
We previously reported that Ralph Fiennes would be directing White Crow, but now it appears that he will also star in the production! According to Variety, the actor/director will portray Pushkin, the mentor and teacher to the main character, Rudolf Nureyev. Here's a synopsis of the play:
The biopic of the legendary Soviet ballet dancer and choreographer, which tells the story of story of his defection to the West.
Actor Stan Yanevski has been filming a new project called The Frame of Regret. He posted some pictures from filming, which you can see below! Thanks for sharing, Stan!
Stan also attended TGS Spring Break 2017, along with our upcoming MuggleNet Live 2017: Nineteen Years Later special guest Chris Rankin. Here are some photos from that event, taken by Laureen Humblin and posted to Stan's Facebook page!
Domhnall Gleeson's latest project, The Little Stranger, has now found funding. According to Screen Daily, Domhnall's ongoing partnership with director Lenny Abrahamson has received the green light from the Irish Film Board along with €350,000! The film is based on the novel by Sarah Waters and explores a mysterious house in Warwickshire. We can't wait to see how this ghost story ends!
Additionally, Domhnall's sometimes on-screen wife, Clémence Poésy, has a project headed for wide release. Final Portrait, a biopic about Swiss painter Alberto Giacometti, based on the painter's memoir by James Lord, was picked up by Vertigo Releasing this week after premiering at the Berlin Film Festival earlier this year. The company is eyeing a summer release.
As we wait very impatiently to find out whether Ezra Miller will return to the Fantastic Beasts universe in the sequel due out next year, another project he has been working on finally released a trailer! Ezra has long been cast as the Flash in the DC movie universe and has a role in the upcoming Justice League. A trailer hit the airwaves this week, much to our excitement!
Speaking of the Flash, Tom Felton has been making a "guest appearance" for some time now in the television incarnation of The Flash as Julian Albert. He and his co-star, Carlos Valdes, have been talking up the current tensions between their characters on the series. Both of their on-screen counterparts are fighting to save a key player on team Flash, Caitlin Snow, a.k.a. Killer Frost. In last night's episode, Barry and friends fought Killer Frost before the identity of Savitar was revealed, and Julian (Felton) and Cisco (Valdes) had very different ideas of how to keep Caitlin safe while fighting off her evil alter-ego. You can tell from their banter during this TV Line interview that these two fellas get along behind the scenes.
Today I'm doing a scene with the beautiful Tom Felton, who makes it very difficult for me to stay focused on the scene because of how gorgeous he is. They reach a bit of a rift, because Cisco carries these reservations with him as of late about his powers. This is his worst nightmare, because the last thing he wants to do is hurt Caitlin. – Carlos Valdes

Killer Frost is on the rampage, and Cisco and I are falling out slightly over the best manner in which to try and get her back. She's full-blown nutter, so we have to rely on some pretty severe methods to try and stop her. – Tom Felton
That wraps us up this week! Tune in next week to see what the cast and crew of Harry Potter and Fantastic Beasts are up to!
—————————————–
Announcement: Do you enjoy reading Harry Potter news on MuggleNet? Ever dream of writing it? MuggleNet is looking for dedicated, creative, and incredibly punctual News Team interns! Applications are being accepted now. Visit our Internships page for more information on this and other internship opportunities!