Ezra Miller as the Flash Now Has an Official Action Figure
It's time to invest in a good pair of Omnioculars as we try to keep up with Ezra Miller in the upcoming film Justice League.
After the success of Batman v Superman: Dawn of Justice and Wonder Woman, fans are now eagerly awaiting the release of Justice League. The anticipation continues to mount now that the official Justice League action figures have been released!
Ezra Miller will also be joining this group of caped crusaders as the Flash.
Miller joined the Harry Potter universe in November 2016, when he took the role of Credence in Fantastic Beasts and Where to Find Them. Credence was a young boy being raised in a household that vehemently discouraged witchcraft of any kind. As such, he had to suppress any sympathy for or tendencies toward witchcraft to avoid the abrasive hand of his foster mother, Mary Lou. Miller took this role head-on and earned a place in every Potter fan's heart.
The recently released Flash action figure bears a striking resemblance to Miller. While he is depicted in his superhero suit, you can still tell right away who it is.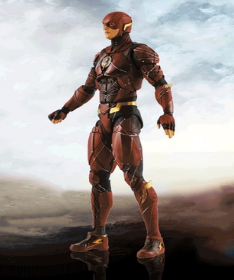 Among the figurines are Ben Affleck's Batman, Gal Gadot's Wonder Woman, and Henry Cavill's Superman. There are also the newcomers to the DC Universe, like Jason Mamoa as Aquaman and Ray Fisher as Cyborg. You can see all of these action figures, including the infamous Batmobile, here.
Justice League is set to be released on November 17, 2017. Remember to have at least one Seeker with you when you go so that you don't miss Miller flashing across the big screen!