Oliver Phelps Reveals Further Details About His New Project!
Earlier this year, news emerged that James and Oliver Phelps were working on a mysterious new project, with the only details provided being the title: Twin Cities. Of course, we were desperate to find out more, even speculating about what the title of the show may mean!
Well, our question has finally been answered by none other than Oliver (otherwise known as George Weasley) himself.
I can say it's a travel documentary show, so the premise is we go to a certain city and we do two sides of the same city.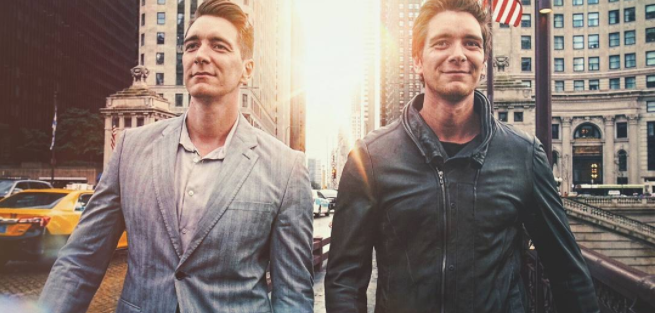 In addition to spilling the beans on his present work, Oliver took the time to revisit his Potter days. On the subject of the Peter Pettigrew in Ron's bed/Marauder's Map plot hole (you know the one), Phelps had his own theory.
Maybe it's a boo in the family that no one talks of. 'Who's this Peter bloke'. Maybe it was an unspoken word in the Weasley's [sic] family. When it came out that he got with Hermione, they were like, 'Oh.'
As for his relationship with J.K. Rowling, it seems even the stars of the film weren't immune to being overwhelmed by her presence!
She was probably the most intimidating person I've ever met in my life, not by any fault of her own, just by ― she made everything that we were doing. I remember we were in Rupert's dressing room on one of the later films, and she came in and totally blindsided all of us. I think we were doing something silly, like we were playing darts but with a crossbow or something not very mature. And she explained where the twins characters came from and where their influences are and stuff like that. I didn't want to rock the boat too much and ask, 'Well, what do they do afterwards … what does one of them do afterwards?' But it was quite interesting learning the backstories and where the characters came from.
And as if being part of the Potter films wasn't enough, Phelps revealed that he enjoys one rather awesome perk – lifetime entrance to the theme park (or he thinks he does, anyway).
I think so. I mean, they did say that they would. I wanted a gold card they give you at Disneyland to get in. They said, 'Well, we don't do that at Universal. Just call the office, and they'll get you in.' I want a gold card to show you. To be fair to the guys, they've always been awesome when we've been down, and they've had close friends in as well.
Are you excited for Twin Cities? What do you think of Oliver's Pettigrew theory? Be sure to share in the comments below!