J.K. Rowling Offers a Glimpse of "Cormoran Strike"
J.K. Rowling is the queen of the Twitter tease, and she has struck again with posts about the upcoming TV adaptation of her Cormoran Strike novels. We got our first look at the series back in November when filming began, and Rowling updated us about its progress in April. Since then, fans have been eagerly awaiting more news.
Rowling recently took a moment to respond to a fan's query about a possible release date for Cormoran Strike on Twitter. Although she didn't offer a specific premiere date for the series, she indicated that it would be airing soon. She went on to tell fans that she is very happy with how the show has turned out!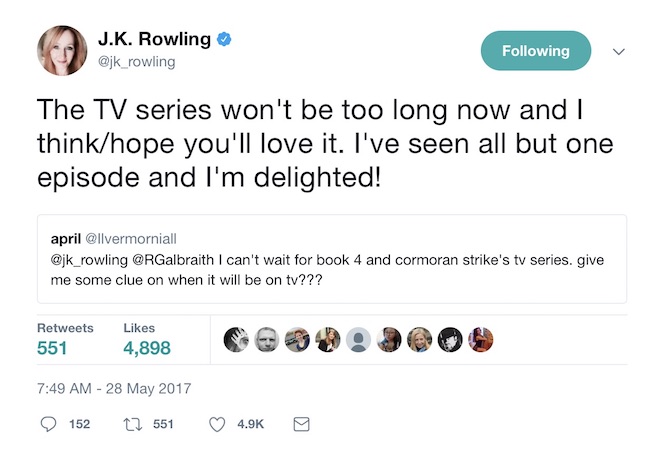 It seems that Rowling has nothing but praise for the series. That's great news for Strike fans who are eagerly awaiting the series premiere!
If her earlier praise wasn't enough, there's more! Rowling can be relied upon to surprise fans with a hint from time to time, and she did not disappoint when she once again posted on Twitter about Cormoran Strike. This time she posted a picture of a television playing The Cuckoo's Calling, the three-episode arc based on the first Strike book. Her only comment? A grinning smiley face.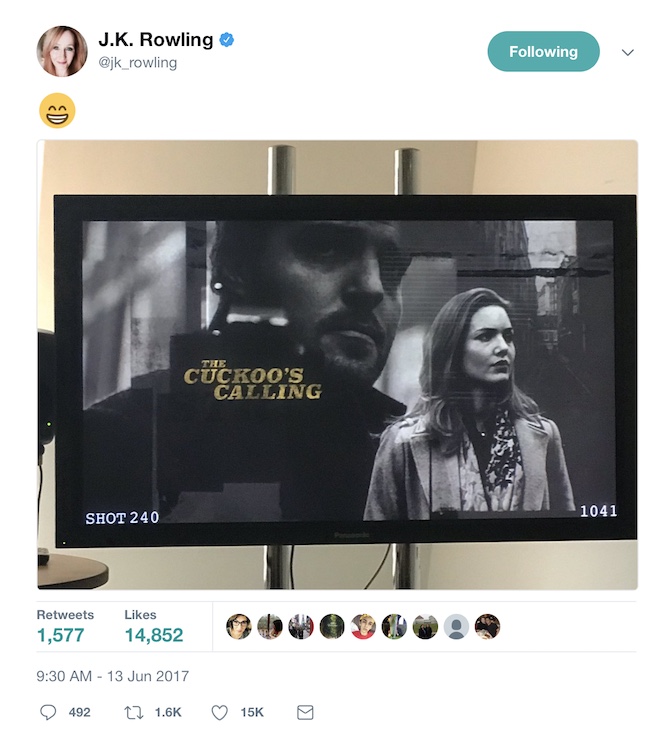 Is Rowling telling us that we will be watching Cormoran Strike and Robin Ellacott solve mysteries on the small screen in the near future? If her Tweets are anything to go on, fans should get ready for some great TV!