Pottermore Pop-Up Shop in London
UK-based Harry Potter fans got some good news recently when Pottermore announced its new art collection, a line of carefully curated art prints from the Pottermore art archives. Now they're getting even more good news with the announcement of the Pottermore Pop-Up Shop in London.
The first week of July will see the pop-up shop open at Graffik Gallery on Portobello Road. Not only will prints and posters from the art collection be available for purchase on-site, but original works by the artists will also be on display. In addition, fans will be able to view Andy Singleton's 3D paper models of magical creatures, made to coincide with the release of the new edition of Fantastic Beasts and Where to Find Them.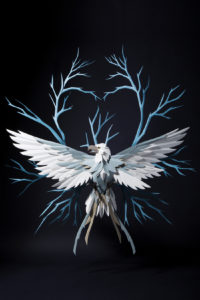 The Pottermore Pop-Up Shop will be open Saturday, July 1 through Friday, July 7, 2017, at the following times:
Saturday, July 1: 9:00 a.m. – 7:00 p.m.
Sunday, July 2: 11:00 a.m. – 5:00 p.m.
Monday, July 3: 11:00 a.m. – 5:30 p.m.
Tuesday, July 4: 11:00 a.m. – 5:30 p.m.
Wednesday, July 5: 11:00 a.m. – 5:30 p.m.
Thursday, July 6: 11:00 a.m. – 5:30 p.m.
Friday, July 7: 1:00 p.m. – 5:30 p.m.
The shop will be located at Graffik Gallery, 284 Portobello Road, London, W10 5TE.
Will you be going to Graffik Gallery to see the exhibit and get your new Harry Potter art prints? This stylish set of artwork would look great on any wall!