Grindelwald: The Only One Dumbledore Ever Feared?
Earlier this month, as principal photography began on the as-of-yet untitled sequel to Fantastic Beasts and Where to Find Them, we learned seven magical tidbits of information regarding the film's plot. What struck me the most was that the film, set in 1927, will show Newt Scamander and Albus Dumbledore teaming up to hunt down Gellert Grindelwald. Although we already knew that Dumbledore would be making an appearance in the sequel, it looks like he'll be playing a much more prominent role than previously thought.
We know for certain that Dumbledore defeated Grindelwald in 1945, but beyond that, there are a lot of things that we don't know about his life pre-World War II. Most of what we know about Dumbledore's life during this time comes from Rita Skeeter's The Life and Lies of Albus Dumbledore, so we should approach this information with a certain degree of skepticism. From what I remember of Deathly Hallows, it was suggested that Dumbledore only reluctantly joined the wizarding world's attempts to stop Grindelwald when he was at the height of his powers. Dumbledore said in Deathly Hallows, "You are very kind, Harry. But while I busied myself with the training of young wizards, Grindelwald was raising an army. They say he feared me, and perhaps he did, but less, I think, than I feared him" (DH 35). He also said, "I delayed meeting him until, finally, it would have been too shameful to resist any longer" (DH 35). However, the next film in the Fantastic Beasts series will show Dumbledore enter the fray much earlier than I expected – two decades before Grindelwald was defeated.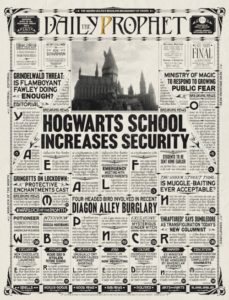 I've also noticed an inconsistency between the Harry Potter novels and the Fantastic Beasts film series. In The Life and Lies of Albus Dumbledore, Rita Skeeter claimed that "Grindelwald never extended his campaign of terror to Britain" (DH 18). This might not have been entirely true if the start of Fantastic Beasts and Where to Find Them is anything to go by. During the opening montage of that film, we are bombarded with several newspaper headlines, one of which says, "HOGWARTS SCHOOL INCREASES SECURITY." So while Grindelwald may not have attempted to subvert the British wizarding society, the threat he posed was tangible enough to generate concern.
I assume that Dumbledore and Grindelwald will not come face-to-face in the second installment of the Fantastic Beasts film series because The Life and Lies of Albus Dumbledore claims that "Barely two months into their great new friendship, Dumbledore and Grindelwald parted, never to see each other again until they met for their legendary duel" (DH 18). The same biography claims that "there can be no doubt that Dumbledore delayed, for some five years of turmoil, fatalities, and disappearances, his attack upon Gellert Grindelwald" (DH 18). With the next Fantastic Beasts film being set in 1927, this would suggest that Grindelwald's rise to power began sometime in the early 1920s. It's also interesting to note the parallels between Grindelwald's and Voldemort's rises to power. According to Dumbledore, "the years of Voldemort's ascent to power… were marked with disappearances" (GoF 30).
I'm also intrigued by how Dumbledore and Newt will team up, and whether the film will explain how Newt originally came to New York City on Dumbledore's orders. Although Dumbledore has not yet become Headmaster at Hogwarts, he's still a highly influential wizard. Dumbledore could surely have teamed up with any witch or wizard. This got me thinking, just how powerful of a wizard is Newt (especially since he never graduated from Hogwarts)? As Graves/Grindelwald says, "What makes Albus Dumbledore so fond of you?" Perhaps Newt gives Dumbledore the motivation to go after Grindelwald because he sees himself in Newt. Newt's relationship with Leta Lestrange, which will be explored in the next film, might remind Dumbledore of Grindelwald and himself. Maybe Dumbledore and Newt will help each other to let go of the past.
Don't forget! Tickets to MuggleNet Live! 2017: Nineteen Years Later are still available for purchase, and we would LOVE to meet you in Orlando for an amazing Potter fandom experience! Check out our website for details and then get your ticket to have a private, magical evening with MuggleNet and the awesome talent from the Potter films!