"Harry Potter" Fan Events Happening This Weekend and Beyond
With Harry and Jo's birthday (July 31) just around the corner, it seems fitting that there are a ton of Potter-related events happening this weekend. We've rounded up some of the most exciting fan celebrations to get you in the mood not only for July 31 but also for September 1, which we'll be celebrating in style at Universal Orlando Resort with MuggleNet Live! 2017: Nineteen Years Later (See below for more!).
Potter, Past and Present is a literary conference being held in London July 29–30 at the Book Club Shoreditch in joint celebration of the series' 20th anniversary, Deathly Hallows' tenth anniversary, and the date of the epilogue, "Nineteen Years Later." The event will include panels, debates, entry to the Book Club's club night, and even access to the Chamber of Secrets Cocktail Bar, which is having a special Harry Potter–themed menu. MuggleNet will also be in attendance! To get your last-minute tickets, click here.
Also in London this weekend is the major London Film & Comic Con, being held July 28–30 at the Olympia London, and we're happy to report that a whole slew of Harry Potter actors will be there to greet fans:
James and Oliver Phelps (Fred and George Weasley)
Mark Williams (Arthur Weasley)
Sean Biggerstaff (Oliver Wood)
David Bradley (Argus Filch)
John Cleese (Nearly Headless Nick)
Julian Glover (voice of Aragog)
Zoë Wanamaker (Madam Hooch)
Danielle Tabor (Angelina Johnson)
Unfortunately, Robert Hardy (Cornelius Fudge) and Ron Perlman (Gnarlak, Fantastic Beasts) both canceled their appearances.
Also check out the Young Adult Literature Convention (YALC), hosted as part of LFCC, which includes author events, writing workshops, book signings, and more. MuggleNet will be in attendance at both LFCC and YALC, and we'd love to see you there!
To see LFCC's full schedule and get tickets, click here.
Meanwhile, in Philadelphia, the Big Blue Marble Bookstore is hosting a Fantastic Beasts weekend for fans of all ages. Saturday, July 29 will include exciting activities for kids, a trivia challenge, a screening of Fantastic Beasts and Where to Find Them, and a discussion on the Potter universe for older fans. Sunday, July 30 will follow with an in-depth discussion on race, sexuality, and representation in the Potter universe. Click here for more info.
We previously told you about the Harry Potter Festival happening in Aurora, Illinois, this Sunday. The event will include Hogwarts classes, Potter-themed merchandise, and a costume parade for those who wish to dress up as their favorite characters.
Back in London, the remainder of the summer will see a Harry Potter dinner series taking place at Covent Garden members' club Library. Every Friday and Saturday from August 4 to September 30, guests can experience a seven-course Hogwarts feast, including a welcome cocktail of butterbeer or firewhisky, a "Hatstall" chicken liver parfait, and a Honeydukes dessert. See the full menu and book your tickets here.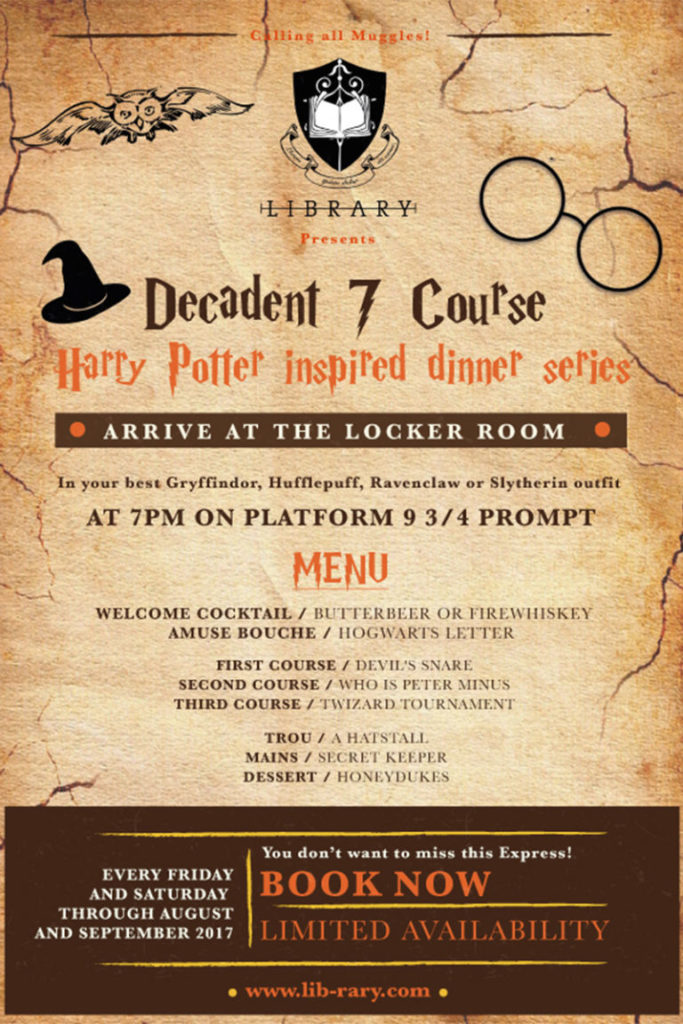 Of course, we at MuggleNet are also celebrating Harry Potter this summer at our event MuggleNet Live! 2017: Nineteen Years Later at Universal Orlando on September 1. We've reserved Diagon Alley, King's Cross Station, and the Hogwarts Express just for our guests! We've got a ton of magical things planned for attendees, including exclusive, once-in-a-lifetime experiences with Potter talent inside Diagon Alley and on Platform 9 ¾! Learn more and get your tickets here!