MuggleNet Visits Pottermore's London Pop-Up Shop
As MuggleNet previously reported, for one week only, a Muggle art gallery has been transformed into a magical display of art and sculpture inspired by Harry Potter and Fantastic Beasts and Where to Find Them.

This new collection, curated by Pottermore, can be found at Graffik Gallery on London's Portobello Road, just a 30-minute Underground journey from King's Cross station. Graffik Gallery is usually home to Street Art, but Pottermore's Creative Team has been working to turn the space into a minimalist showcase of amazing interpretations of the wizarding world from a number of different artists. The collection is spread over two floors and includes illustration, digital art, and paper sculpture.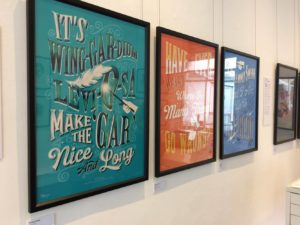 Upon entering the Gallery, Potter fans will undoubtedly recognize Olly Moss's reimagining of the series' cover art, which was produced for the e-book editions of the Harry Potter series. Also on the first floor is a collection of "Iconic Quotes" posters designed by Ross Crawford, Peter Strain, and Wanissa Somsuphangsri. Each artist has used their individual style in order to portray the sense and emotion of the moment in the book, from the classic "It's Win-GAR-dium Levi-O-sa" to the feels-inducing "Always."
Opposite this display is a collection by Lesely Buckingham titled "Creature Chaos." Each one of these eight illustrations features a beautiful watercolor interpretation of a magical creature and an excerpt from the book in which they appear. This collection will not only please a certain Magizoologist but also includes shop manager Roz's favorite piece, "Errol Delivers a Howler!"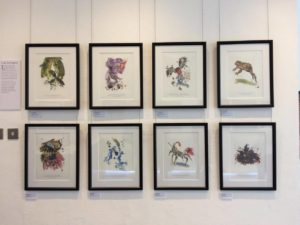 The collection continues down into the basement, but mounted on the wall just before the stairs are Monste Bernal's "Young Marauders." Each mesmerizing piece of art features a Marauder, his Animagus or werewolf form, and an illustration to depict an element of his character.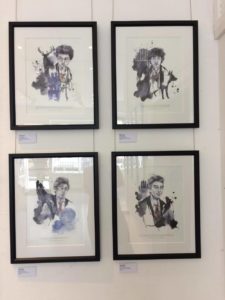 The minimalist feel of the gallery really works in the basement space, where the white walls allow Atomhawk's colorful and detailed works to take center stage. Atomhawk is the designer behind Pottermore's interactive story moments and has been involved with the site since the beginning. The basement displays artwork featuring moments from the Harry Potter series right from the beginning with "An Unexpected Delivery" to "Escape on the Gringotts Dragon" and includes designs of each of the Hogwarts common rooms.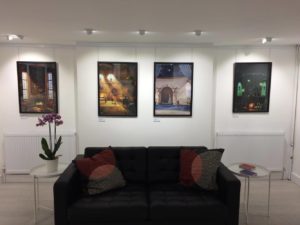 Alongside this collection are four of Andy Singleton's 3D paper sculptures in the "Care of Magical Creatures" series, commissioned by Pottermore for the release of the new Hogwarts Library edition of Fantastic Beasts and Where to Find Them. Showcased in this collection are a hippogriff, unicorn, Thestral, and Thunderbird, as well as a time lapse video to show visitors the process of creating the 3D paper sculptures.
These unique pieces of art are absolutely stunning, and although visitors are unable to take home a hippogriff or Thunderbird for themselves, posters of each creature are available to purchase.
All designs and illustrations on display are available to buy in print or poster form and cost £34.99 and £19.95, respectively. The Pottermore Pop-Up Shop is located at Graffik Gallery, Portobello Road, London, and is open until Friday, July 7 at the following times:
Saturday, July 1: 9 a.m.–7 p.m.
Sunday, July 2: 11 a.m.–5 p.m.
Monday, July 3: 11 a.m.–5:30 p.m.
Tuesday, July 4: 11 a.m.–5:30 p.m.
Wednesday, July 5: 11 a.m.–5:30 p.m.
Thursday, July 6: 11 a.m.–5:30 p.m.
Friday, July 7: 1 p.m.–5:30 p.m.
Don't forget, tickets to MuggleNet Live! 2017: Nineteen Years Later are still available for purchase! We would LOVE to meet you in Orlando for an amazing Potter fandom experience! Check out our website and get your ticket to have a private, magical evening with MuggleNet and the awesome talent from the Potter films!