Check Out the Alivan's Site Redesign – and Save!
Haven't been to Alivan's recently? You may be surprised at what you find! The popular wandmakers recently redesigned their website to make it smoother and easier to use.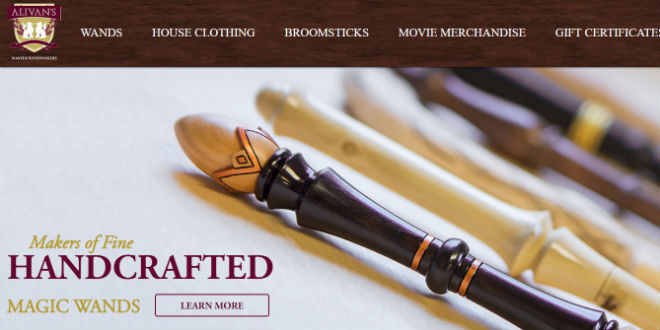 If you haven't visited Alivan's before, you'll be even more interested in paying them a visit. The site offers official Harry Potter replica wands, but the main event is the handcrafted, hardwood wands designed and crafted by Alivan's themselves. You can choose from a number of different designs and collections, from their Classic offerings to the one-of-a-kind Solitaire collection. You can even order your own House clothing or broomstick!
The folks at Alivan's are excited to receive feedback from our readers on both the mobile and desktop versions of the new site! You can let them know what you think here or on Facebook.
In honor of the site relaunch, Alivan's is offering an exclusive discount for MuggleNet readers – just enter MUGGLENETVIP at check out and receive 20% off! This special offer won't last long, so take advantage of it while you can. Isn't it time you finished that cosplay you've been meaning to, anyway?
Time is running out to attend MuggleNet Live!: Nineteen Years Later! We're convening in Orlando in under a week for a night of unforgettable magic – if you've been putting off getting a ticket, get yours today!