Team USA Finds Quidditch Head Coach!
US Quidditch has added a few members to its staff in the membership department. Michael "Yada" Parada will be the new Head Coach for Team USA, and Amanda Dallas will be the National Team Coordinator.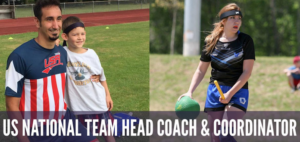 Both Parada and Dallas have plenty of experience with the sport, both of them not only playing on their college teams but having leadership roles on them as well.
Parada played quidditch at Penn State University and was the head coach all three years he was on the team. He helped bring his team to multiple Quidditch World Cups while he was leading them.
Dallas played for New York University. She was captain of the team for the 2012–2013 season, helping her team advance far into World Cup VI.
In 2014, after the two both graduated college, the pair founded the quidditch team the Warriors together. The team has since qualified for and reached bracket play in the following three US Quidditch Cups, even making it to the finals of one.
MuggleNet's SnitchCenter would like to congratulate both Michael Parada and Amanda Dallas on their new positions! With these two helping to lead Team USA, there's no doubt that the team will be successful.