UPDATED: Harry's Hogwarts Acceptance Letter, Ron's Howler Up for Auction
UPDATE – October 8:
Ron's Howler sold for a winning bid of £7,500, while Harry's Hogwarts acceptance letter went for a whopping £30,000!
————————-
We'd all love to own a piece of Harry Potter movie magic, and now's our chance – those of us who have a few thousand pounds to spare, of course.
Prop Store, which collects authentic movie memorabilia, is auctioning off two famous letters from Harry Potter movie history. First is the Hogwarts acceptance letter that Harry receives from Hagrid in Harry Potter and the Sorcerer's Stone.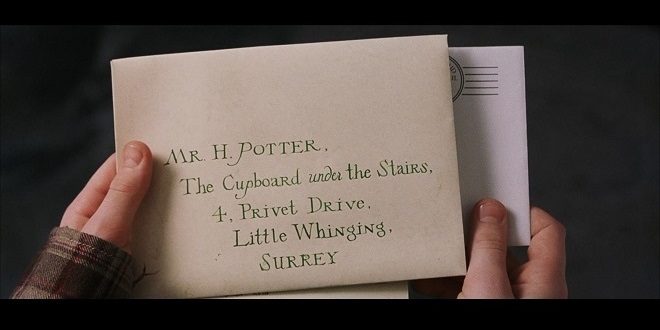 Unlike most of the entirely printed Hogwarts letters that were used in the scene where Harry tries desperately to snatch a letter from the air, this letter has a red wax Hogwarts seal. The seal "has cracked, and two small fragments are missing, but the Hogwarts crest is still clearly identifiable." The envelope has Harry's address printed in green on the front and the Hogwarts crest on the back and is described as being "in excellent condition." It also comes with a letter of donation from Warner Bros. and a copy of the actual acceptance letter.
Also up for grabs is the Howler that Ron receives in Chamber of Secrets for his and Harry's flying Ford Anglia stunt. The red envelope has a cream printed address label, a burgundy ribbon, and a gold-colored wax seal, still intact, with a W for "Weasley." It also comes with an 8″x10″ movie still of the Howler scene signed by Rupert Grint and the text of the Howler printed in a calligraphic font.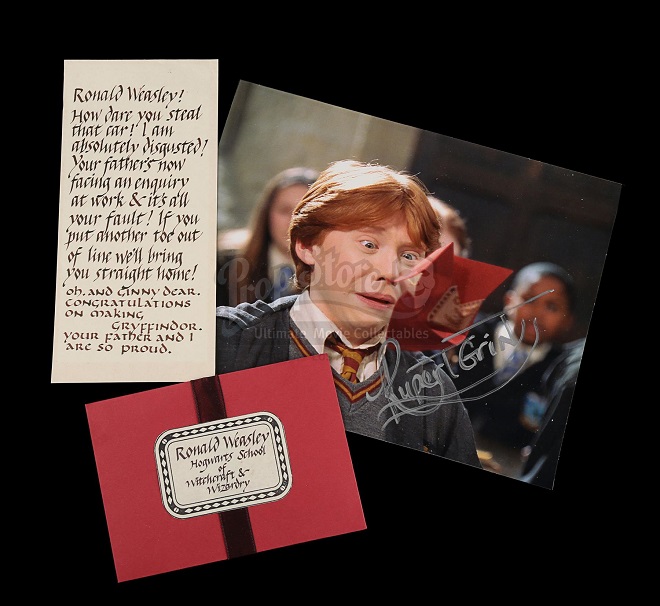 Both items have a starting bid of £1,500 (or about US$1,957) and are expected to go for £3,000 to £5,000 at auction.
Other lots in the auction include Daniel Radcliffe–autographed crew items from throughout the series and an autographed crew gift poster from Harry Potter and the Deathly Hallows – Part 1. These are estimated to sell for between £400 and £800.
Online bidding is open now, and the live auction will take place on September 26 in London and be livestreamed online for fans to follow along.
Even if you can't afford to bid on these items yourself, you'll still have a chance to see them in person! A free exhibition is open to the public at BFI IMAX in Waterloo, London, from September 7 to 26.
Which of these priceless movie artifacts would you be most excited to own?