Muggle Magic and "Harry Potter" Collide at the British Library!
Just over a year since it was announced, the eagerly awaited exhibition Harry Potter: A History of Magic opens to visitors this week at the British Library, and it's a wonderful blend of Potter history and Muggle magic.
The exhibition explores the history of magic and Potter through eight subjects studied at Hogwarts and features items from J.K. Rowling's personal archive, as well as historical items from across the world.
The first subject is Potions, although this is far from the cold, dark dungeon of Professor Snape. Straight away, Harry Potter and the history of "Muggle magic" start to connect. In the center of the room is a cauldron dating from 800 BC, which stands alongside one of the first of many interactive exhibits. Here, visitors can not only view the books and artifacts that are displayed but also attempt to make their own potions using an interactive cauldron display.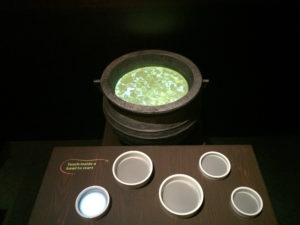 Two of the of the most anticipated historical objects in the exhibition are showcased in the Alchemy section – the Ripley Scroll and the tombstone of Nicholas Flamel. The Ripley Scroll is particularly impressive. Dating from the 1500s, the scroll is six meters long and describes how to make your very own philosopher's stone, something that lead curator Julian Harrison jokingly wants to attempt.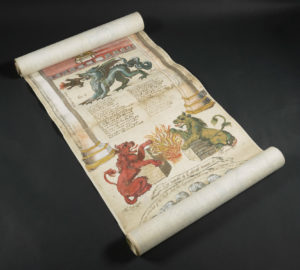 Magic and Muggle history continue to collide throughout the exhibition. A medieval manuscript detailing the safe way to cultivate mandrakes is on display in Herbology, and those with a Seeker's eye can spot the Golden Snitch as it flies around the walls of the Charms room. There are also some items related directly to Potter dotted among the history, such as Jim Kay's interpretation of Diagon Alley and a handwritten edition of The Tales of Beedle the Bard.
One of the most exciting interactive displays can be found in Astronomy. For the first time, the British Library has teamed up with Google Arts & Culture to delve into the world of augmented reality, allowing visitors to use the 400-year-old celestial globe to learn about the astrology behind character names. As well as being fun to interact with, this feature uses Harry Potter to show how technology can be used to further enhance our interactions with history.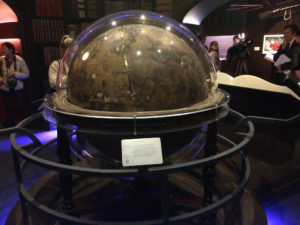 After a lesson in Astronomy, it's time to for Divination. This section perfectly captures the atmosphere of Professor Trelawney's classroom but thankfully not the stifling heat or overwhelming perfume. Here, visitors can marvel at the Chinese oracle bones, the oldest item in the British Library's collection, and consult 18th-century books on palmistry and fortune telling before heading to Defense Against the Dark Arts. This smaller collection includes an intriguing early chapter of Philosopher's Stone, titled the "Red-Eyed Dwarf." In this draft, Fudge is a "Muggle minister" whom Hagrid visits in regard to mysterious deaths and disappearances!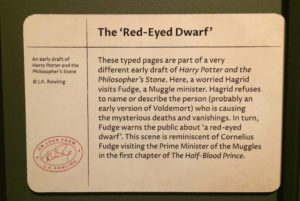 The exhibition concludes with one-of-a-kind items all relating to the past, present, and future of Harry Potter. It is difficult to choose a standout favorite, without spoiling many of the incredible items, but co-curator Alexander Lock told MuggleNet why the exhibition is a must-see for fans:
There's so much here that die-hard Harry Potter fans would love. We've got so many wonderful items from J.K. Rowling's own archive, personally chosen by her, which I think people will love to see. A handwritten draft of Beedle the Bard, a hand-annotated first edition, we've got [Rowling's] own notes, but in terms of historical items for die-hard Harry Potter fans, I think they would love to see a bezoar stone and treatises on bezoars.
For those who are not such big fans of the Harry Potter series, Alexander is convinced they will still love the exhibition:
Not only are we exploring the Harry Potter stories, but we're also exploring the history of magic behind the Harry Potter stories, and a lot of that relates to early science, to early belief and early medicine to some extent. A lot of the items are extremely vibrant wonderful things to look at, and they have huge rich stories behind them, not only in relation to J.K. Rowling but [also] in relation to themselves.
Harry Potter: A History of Magic runs from October 20, 2017, to February 28, 2018, at the British Library. Tickets to the exhibition can be purchased here.