Updated Paperback Edition of "J.K. Rowling: A Bibliography" Now Available!
You may remember that Bloomsbury previously published J.K. Rowling: A Bibliography 1997–2013, a detailed, descriptive bibliography of all of J.K. Rowling's published works up until 2013. The hardcover reference book came at a hefty price of £95.00 or $128.00 US.
Now, hardcore book nerds will be thrilled to hear that an updated edition has just been made available in paperback! This new edition, now titled simply J.K. Rowling: A Bibliography, includes over 50 new editions of J.K. Rowling's works published since 2013, including the 2014 Bloomsbury children's editions of the Potter books, the 2015 illustrated edition of Philosopher's Stone, and the Cormoran Strike novels under Rowling's pen name of Robert Galbraith.
The price tag is a much more affordable £30.00 (Bloomsbury currently has it on sale online for £27.00) or $38.29 US on Amazon. An e-book version is also available, currently for £22.49 from Bloomsbury.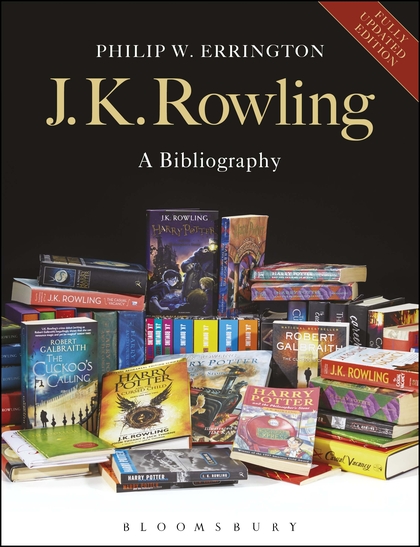 The original book includes extensive descriptions of all English-language US and UK editions of the Harry Potter series, the Hogwarts Library (Fantastic Beasts and Where to Find Them, Quidditch Through the Ages, and The Tales of Beedle the Bard), and The Casual Vacancy, as well as details on all contributions Rowling has made to books, pamphlets, newspapers, and more (such as the 2011 charity book Dear Me: More Letters to My Sixteen-Year-Old Self and the hand-drawn Black family tree from 2006).
The painstakingly collected descriptions include (but are not limited to!) the numbers of copies in print runs, reprints, cover copy, copyright page contents, images of the books and their interior title pages, interesting notes from conversations that bibliography author Philip W. Errington had with the Potter books' publishers, and – perhaps most excitingly – lists of all text errors in early editions of the Potter books that were later corrected.
Unfortunately, the bibliography does not include the multitude of editions of the Potter books published outside of the US and UK. Indeed, that would require quite a bit more work and collaboration since the Harry Potter books have now been translated into 80 languages (the latest being Scots). We hope that we may see a compendium of information like that sometime in the future, but for now, J.K. Rowling: A Bibliography is a fascinating resource for dedicated fans of Rowling's work!