Potter DIY: Harry Potter Snow Globe
If you're looking for an incredible Potter gift or holiday decoration, this simple snow globe is project for you! This DIY is inexpensive and will make the perfect addition to anyone's Harry Potter decor.
What You'll Need:
An empty jar
Enough baby oil to fill said jar
A snow globe inhabitant
Glitter
Super Glue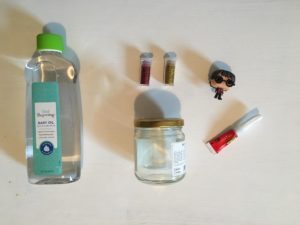 Directions:
Step 1: The first thing I did was remove the label from my jar. You want to see inside your snowy scene, after all. I used a sponge with a combination of warm water and nail polish remover to scratch off the label and glue residue.
Step 2: Make sure your snow globe inhabitant will fit inside your jar. I used a Triwizard Tournament Harry from a Funko Pocket Pop! Keychain, after unscrewing the keychain itself from his head.
Step 3: To give my little Harry some extra height, I first glued him to a bottle cap and then glued that to the inside of the jar lid. Let the glue dry for about half an hour or until you're confident everything has adhered.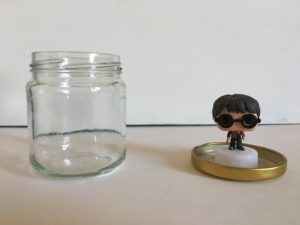 Step 4: Fill the jar with baby oil, and then add your glitter. The baby oil has a viscosity that will make the glitter drift nice and slow. You can also use water, but your glitter will not float as picturesquely. I was going to use white glitter to achieve a classic snowy feel, but then I saw red and gold, and it just seemed like a sign to put Harry in a swirly sparkling Gryffindor environment. Add however much glitter you like; I added just a dash of each color to mine to keep it sparse, but feel free to crank up the glitter volume as much as you want.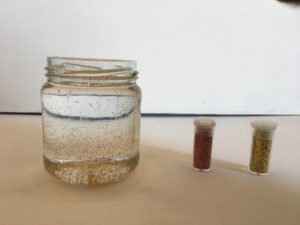 Step 5: You have two options when it comes to sealing your snow globe. You can screw the lid on tight, or you can add some glue to the rim beforehand. I've done the latter here. Once that is dried, shake it up and watch that glitter fly!