Potter DIY: Magical Gift Bags and How to Make Them!
Do you have a magical present ready to give your Potter-obsessed friend but just a plain old bag to hand it over in? MuggleNet has been working hard to find the best ideas from the World Wide Web on how to make a gift that is worth an Outstanding OWL.
What You'll Need:
Plain brown shopping bag (as many as you need)
A circular drinking glass
Pencil
Ruler
Eraser (just in case)
Paint – yellow, red, gold, and black (Let that House pride show!)
Paintbrushes
Black permanent marker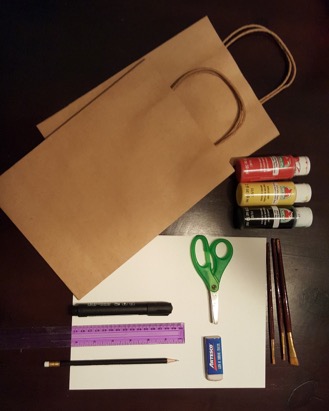 Directions:
Step 1: To make this incredibly cute Harry Potter bag, the first thing you will need to do is measure the bag to find its center. On the center, draw the frames of Harry's glasses. Try to get them right in the middle of the bag so you can leave plenty of space for his wild hair and cute House scarf! Use the bottom of a small glass to trace around to create the circular lenses of Harry's glasses.
Step 2: After tracing the circles for the glasses, use a black marker to make the lines thicker and add the bridge and temples of the glasses.
Step 3: Draw the lightning bolt scar just above the glasses and color it in with yellow paint. Your bag should look somewhat like this: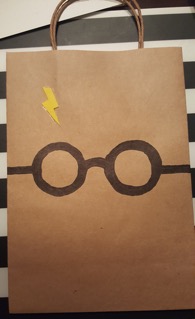 Step 4: Using the pencil, draw in Harry's trademark wild black bangs. (His hair is always messy, so don't worry about any errors!)
Step 5: Trace the lines for the scarf along the bottom of the bag.
Step 6: Use Gryffindor colors to fill in the stripes on the scarf. Then use a dark brown or black color to fill in the lines of Harry's hair. Your bag should now look more or less like this:
Step 7: Finally, use the black marker to define the edges and make everything stand out.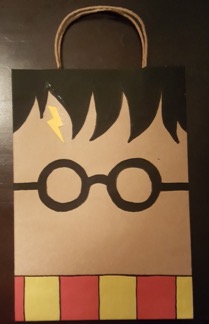 Congratulations! You've created the perfect gift bag for the Harry Potter fan in your life.