What's Coming Up at the Studio Tour in 2018?
2017 might not be over yet, but Warner Bros. Studio Tour London – The Making of Harry Potter has given us a glimpse at what special events we can expect next year.
First up is a special feature during the February school holiday, which will feature the art department.
Visitors are invited to discover the craftmanship and artistry that went into every detail of the wizarding world all the way from technical drawings, white card models and concept art to prop-making. During this time, the Studio Tour will be home to some of the original members of the Art Department, who will demonstrate a range of filmmaking techniques, including live wand-making demonstrations by the team who created thousands of wands during the ten years of filming.
The feature will run February 9–19. Next, it's the Goblet of Fire's turn to take center stage. Between March 30 and September 23, the Goblet of Fire will be celebrated at the Studio Tour.
The Goblet of Fire will return to the Great Hall for the first time since filming ended with live demonstrations showing visitors how the parchment pieces were propelled out to reveal the Triwizard champions. Created by Pierre Bohanna and the Prop-Making Department, the Goblet of Fire was carved from a single piece of wood. In addition, many new props and costumes from the Triwizard Tournament will be on display, including those belonging to Barty Crouch Jr and Fred and George Weasley.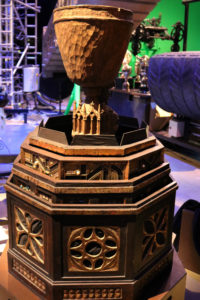 With the feature running for five months, you won't miss it if you're planning a trip to the Studio Tour over the summer!
The Valentine's Dinner in the Great Hall event, where couples are invited to attend a special meal, will also return.
Guests will enjoy welcome drinks and canapés before sitting down to a three-course dinner on the authentic set. Guests will be given exclusive after-hours access to the Studio Tour, a tankard of [b]utterbeer and their choice of wand to remember their evening.
The dinner will be held on both February 9 and 10. Tickets will go on sale on December 19 at 10 a.m.
Also returning is the popular Dark Arts feature, running between September 28 and November 11. This will be followed by the return of Hogwarts in the Snow, which is currently running at the Studio Tour until January 2018. 2018's feature will run from November 17 until January 27, 2019.
Most exciting, however, is that the press release teases a brand new feature coming this summer! Starting on July 6, visitors will be able to experience a brand new feature at the Studio Tour. What do you think it might be?
Phew, well, that's a lot to keep us busy! Are you planning on heading to the Studio Tour for any of their 2018 features? What might be new this year?