Zoë Kravitz Didn't Grow Up with Television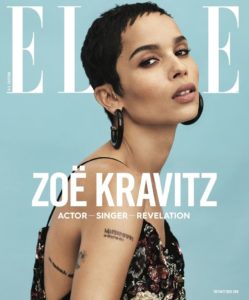 Zoë Kravitz, who plays Leta Lestrange in the Fantastic Beasts films, is featured in Elle's January 2018 cover story. Kravitz, who has been acting for the past decade, most recently got attention for her role as Bonnie in Big Little Lies. Kravitz told Elle that she couldn't believe she was getting to work with the superstar cast of the HBO miniseries.
I said, Wait, I'm getting to work with whom? When? Women like Laura [Dern] and Nicole [Kidman] and Reese [Witherspoon], I've grown up watching them, and to me they're, just untouchable… They were so encouraging. When those women are in your corner, it gives you a little pep in your step.
Kravitz, pictured on the issue's cover in a Saint Laurent dress and Kenneth Jay Lane earrings, also talked about the relationship between fashion and acting.
For me, clothes are a gateway to characters. I watch Audrey Hepburn movies and I want to do my makeup like that. I watch Stand by Me and I think, I want to look like a boy.
Perhaps most surprisingly, Kravitz revealed that she didn't watch live television growing up.
I didn't grow up with television. We had a TV, but it wasn't connected to anything except for a VCR. My mom [Lisa Bonet] would go to the video store, and I was allowed to watch one movie a weekend. I was an only child, and your imagination goes crazy. These films kind of became my friends.
Elle teases that, in the full cover story,  Kravitz discusses her recent work, Harvey Weinstein, being a black woman in entertainment, and growing up with superstar parents Lenny Kravitz and Lisa Bonet. We can't wait to read the rest, which hits newsstands on December 12!