Castium Revelio: Whip Your Hair Back and Forth!
The year 2018 is getting off to a great start! From royalty to rocking hair models, our cast members show that this new year will be one of amazing and entertaining projects. Check out what they're up to currently!
Rumor has it that Helena Bonham Carter (Bellatrix Lestrange) is nearly set to don another royal crown. After absolutely smashing it as the Queen of Hearts in the new adaptations of Alice in Wonderland opposite Johnny Depp (Grindelwald, Fantastic Beasts), the Netflix series The Crown is poised to cast her as Princess Margaret in its third season. Bonham Carter has the talent and the poise to carry the role of the Princess Royal in the upcoming third installment of the series, and we can't wait until her casting is confirmed.
One of MuggleNet's special guests during the Expo Patronum event in London was the talented Jon Campling, who played a train-stopping Death Eater in the Potter films. He's super charming in person, and we love keeping up with all of his projects. Jon is active on social media and posted the following ad in which he stars, putting his silvery tresses on display. Whip that hair, Jon!
Fans of Potter composer John Williams will be glad to know that he might be rejoining the Star Wars universe! Williams let it be known that he would like to finish out the saga with the next installment in the series, Episode IX, telling Variety that he would "very much like to complete that." He has also completed the score for the Han Solo one-off, Solo: A Star Wars Story.
Back in 2016, we posted the rumor that Potter director Mike Newell was in the running to direct a film called Guernsey, a film adaptation of The Guernsey Literary and Potato Peel Pie Society. Looks like he snagged the job, as a release date has been slated for April 20 of this year! The film will star Lily James and will focus on a writer who bonds with island residents as she aims to tell the world about their experiences during World War II through her novel. Take a look at the synopsis here.
A correspondence begins between Juliet Ashton and members of The Guernsey Literary and Potato Peel Pie Society, with them sharing their experiences of Nazi Occupied Guernsey. When an idea for a book catches Juliet she goes to visit the island, making lifelong friends and taking life changing steps along the way. This book is told by way of letters and as the reader, you become enchanted by the writers of them and the love Juliet comes to feel for each of the Islanders.
Domhnall Gleeson (Bill Weasley) has opened up about his experience filming the live-action-slash-animated film Peter Rabbit, which was filmed in Sydney, Australia.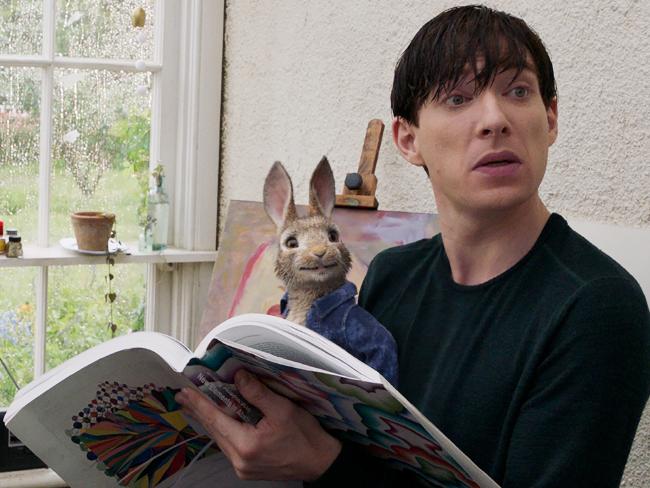 The heat and the sun in Sydney caused some serious problems for the Irish actor as well as the rest of the cast.
I'm a ginger. I spilt under the sun. The first shoot day here, all they were doing was pointing huge hair dryers at me to try and dry the sweat.
His role is extremely physical, as he has to act opposite men in Lycra suits that will be taken out and replaced by CGI animals, according to director Will Gluck.
Two days ago there were four guys in full blue Lycra suits hitting him with sticks for 10 straight hours. It's a lot of work for him. There are a lot of stunts.
By his own admission, while the heat was difficult, Gleeson appears to have enjoyed the work bringing Mr. McGregor to life for the big screen.
When a script is so much fun to read, you assume it will just be fun to make. But of course, a lot of work goes into making something fun. Imagining the rabbits (being created by the crack Animal Logic team at nearby Fox Studios) has got something to do with it. And then there are the physical bits: climbing around on the roof, getting electrified by things, having stuff fired at you.
While the previously released teaser trailer has Mr. McGregor looking a bit stern, Gleeson says that the character will soften a bit and audiences will enjoy his transformation thanks to his relationship with Bea, played by Rose Byrne.
He walks around like he has a stick up his backside. You are supposed to find him ridiculous. And the way that happens, I am convinced, is because someone as brilliant and beautiful as Rose (is playing Bea). There's a luminosity about Rose and I think the character she is playing has something of that. I think anyone who Bea likes, the audience will like.
Peter Rabbit opens on March 22.
A trailer for the new David Tennant (Barty Crouch Jr) project, Final Space, was released this week. The animated series will debut on TBS on February 26, and Tennant plays the evil Lord Commander. Ron Perlman (Gnarlack, Fantastic Beasts) also lends his voice to the series. Check out the synopsis of the series and the trailer below!
An astronaut named Gary and his planet-destroying sidekick called Mooncake embark on serialized journeys through space in order to unlock the mystery of where the universe actually ends and if it actually does exist. But Gary's new friend Mooncake has caught the attention of the sinister Lord Commander who wants the alien's awesome power for his own evil plans.
Fiona Shaw (Petunia Dursley) is starring in the new BBC America series Killing Eve as a lead MI6 agent named Carolyn. The series is an adaptation of the novel Codename Villanelle by Luke Jennings, in which a Russian prisoner is reborn as an assassin and then hunted by MI6. Killing Eve premieres on BBC America starting April 8. Check your local listings for showtimes.
Finally, another project is on the horizon for Potter producer David Heyman. In Between Lives was recently picked up for a pilot by NBC and tells the story of a clairvoyant who aids LAPD officers and FBI agents in solving crimes. If the pilot is successful, the show could move to a full series. We'll keep you posted!
Which project are you most excited to watch? Let us know which projects you'll be tuning in to by leaving us a message in the comment section!