First Look: Exclusive Merchandise for A Celebration of Harry Potter 2018!
A Celebration of Harry Potter, the annual fan event at Universal Orlando Resort in Florida, is now only a couple of weeks away! Universal Orlando has been releasing information about the event over the past several months, including the activities fans can expect and the special guests that will be in attendance.
Now, Universal Orlando has released images and information about exclusive new merchandise that will be available at A Celebration of Harry Potter. Fans will be able to buy an exclusive commemorative Celebration of Harry Potter 2018 wand with silver adornments and red and black stones.
Universal Orlando also revealed the 2018 event imagery, featuring the Hogwarts Express between the Wizarding World of Harry Potter's iconic attractions, Hogsmeade and Diagon Alley. This image will be available on a variety of new merchandise, including T-shirts, lanyards, backpacks, and more!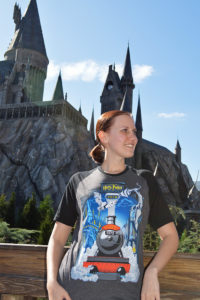 And perhaps most exciting, Universal Orlando is also launching a brand-new Chocolate Frog wizard card. If you're a fan of wizarding sweets, you may be familiar with this wizard – Bertie Bott, of Bertie Bott's Every Flavour Beans!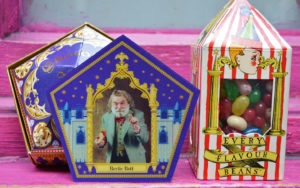 This is now the eighth Chocolate Frog card in Universal's collection, following Hengist of Woodcroft's card, which was added this past November.
For a limited time, the Chocolate Frog boxes featuring this new card will be labeled, so you can make sure to snatch a Bertie Bott card for your collection. After a few weeks, however, the Bertie Bott cards will be mixed into the generally available inventory. This will allow you to have the true wizarding experience of seeking mystery cards – just like in the Harry Potter books!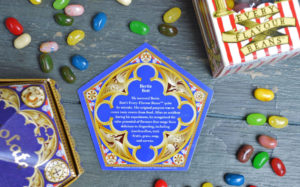 A Celebration of Harry Potter is set to take place January 26–28 at Universal Orlando Resort. If you haven't already, you can purchase tickets directly from Universal Orlando's website.