Goodbye Freeform, Hello HBO
At the beginning of the month, HBO officially gained the rights to the Harry Potter movie series. As a premium channel, this switch is an exciting new opportunity for the movies but can also present serious issues for fans. For what feels like forever, Freeform, formerly known as ABC Family, has taken every opportunity to play the eight movies back to back all weekend long. Now, the Boy Who Lived has relocated to HBO, a channel that has dealt with its fair share of magic and dragons on television shows such as Game of Thrones! Nevertheless, this leaves many fans wondering what this means for their beloved Potterhead Weekends.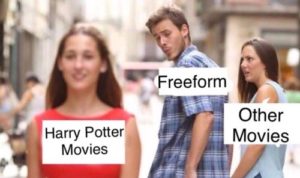 On the one hand, HBO is a premium channel, forcing fans to pay to see the movies. As a basic cable channel, Freeform is available for all to view. While subscription prices can range depending on TV packages and providers, the added cost could force fans to ask, "Is it worth it?" The appeal of purchasing the whole set on DVD increases as the release date for the newest 4K HD Blu-ray with HDR editions draws closer. In addition, the movies are available for purchase or rent on streaming services such as Google Play.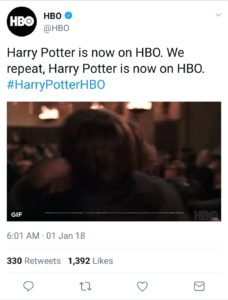 However, this is not an Avada Kedavra to the Potter binge-watching. Since joining the HBO family, the movies (including Fantastic Beasts and Where to Find Them!) have become available for streaming on HBO Go and affiliates, making them far more accessible on the go. This also marks the first time that all eight Potter movies and Fantastic Beasts will be available together. Furthermore, HBO viewers will not have to suffer through commercials, which would create a more enhanced and streamlined viewing on live TV.
What do you think of the movies' relocation to HBO? Will this cause a surge in Potter DVD sales or do you think this will make marathons significantly easier? Let us know in the comments below! Click here if you want to learn more about the exclusive deal between NBCUniversal and HBO!