Ticket Release Dates Announced for "Harry Potter: A History of Magic" New York Exhibition!
Pottermore announced the ticket release dates for the New York run of the Harry Potter: A History of Magic exhibition, which has been enchanting London's British Library since last October.
The US exhibition, which will run at the New-York Historical Museum and Library from October 5, 2018, to January 27, 2019, is expected to show many of the same artifacts that are currently at the British Library. These items range wildly and include pieces such as J.K. Rowling's original Harry Potter synopsis. However, Pottermore teases that new material will also be displayed at this location.
When the exhibit moves to New York it will be augmented with special items from the collections of both the New-York Historical Society and Scholastic, so don't expect it to be identical…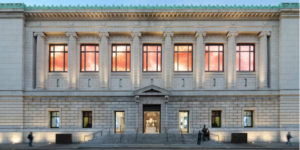 Advance tickets can be reserved by New-York Historical Members starting February 14 at 12 p.m. ET and by the general public in April. Pottermore recommends visiting the New-York Historical Society's website or following @nyhistory on Twitter to get the latest ticketing updates.
And if you're across the pond from New York, you can still visit Harry Potter: A History of Magic at the British Library until February 28.