Ten Fantastic Beasts We'd Like to See in "Crimes of Grindelwald"
We still have a little less than a year to go until Fantastic Beasts: The Crimes of Grindelwald hits theaters, but that doesn't stop us from speculating on what creatures may appear on-screen in the sequel! After all, "Fantastic Beasts" is still in the title, so why wouldn't there be any?
In a recent interview with EW, Executive Producer David Heyman confirmed that there will indeed be some magical creatures involved in the plot.
There are as many beasts in the film as in the first, but the main driver in the first film was finding the beasts. That's not the driver in this film; it's not a central part of the plot. But beasts feature in the film and feature strongly.
What beasts will be featured? Eddie Redmayne (Newt Scamander) also gave us a hint, saying that the beloved Niffler and Pickett will reappear and that a Chinese creature will show up too. And with Credence Barebone's confirmed role, we will probably see the magical energy source that is the Obscurus.
So that leaves us with questions! What is this mysterious Chinese creature? And what other beasts will help (or hurt) our heroes in their journey to bring down Grindelwald? We've compiled a list of which ones we'd love to see show up!
10. Graphorn
We were briefly introduced to the Graphorn in the first Fantastic Beasts film when it was revealed that Newt had the last breeding pair in existence in his suitcase. Graphorns are seriously dangerous creatures, but we'd love to see these beautiful creatures aid Newt and his friends in battle.
9. Nundu
Like the Graphorn, the Nundu is also extremely dangerous, with toxic breath that can take out an entire village! We only saw one for about five seconds in the last film, so we're itching to see more! These little cuties would surely give our heroes the upper hand if it came down to a war.
8. Chimaera
We haven't been introduced to the Chimaera yet, but it sure looks fearsome! Native to Greece, this is a hybrid creature with a lion's head, a goat's body, and a dragon's tail. This is one of the most vicious creatures in existence, with a Ministry of Magic Classification of XXXXX.
7. Swooping Evil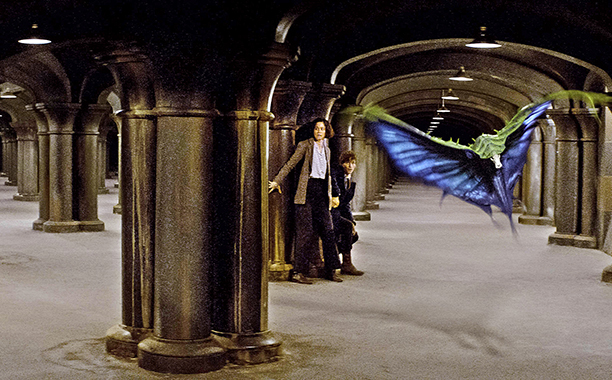 Fearsome yet loyal, this Swooping Evil really helped Newt get out of a tight situation. They are easy to carry around since they stay in a handy little cocoon, giving them the element of surprise in a fight. Plus, they're so beautiful!
6. Runespoor
In the deleted scenes from Fantastic Beasts and Where to Find Them, we see Newt and Jacob briefly encounter the Runespoor, and holy snakes, was it huge! Runespoors are essentially three-headed snakes. Their size is enough to intimidate anyone!
5. Thunderbird
To put it simply, WE MISS FRANK. Newt set his beloved Thunderbird free at the end of the first film. How amazing (and emotional) would it be to see him come back when Newt needs him the most??
4. Erumpent
There is no denying that the scenes between the Erumpent and Jacob are absolutely hilarious. But all joking aside, this adorable little blubbery creature could do some serious damage! It has a horn that is capable of exploding things, not to mention, it is huge and could probably just crush someone with its weight.
3. Phoenix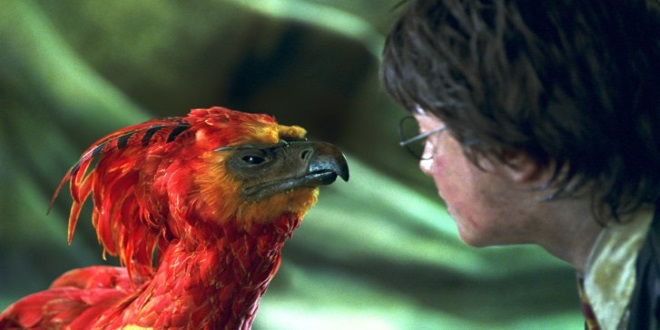 It doesn't necessarily have to be Fawkes (although it is known that Fawkes and Dumbledore met sometime prior to 1938), but we'd love to see a phoenix! Their importance has already been established in the Potter films. They are extremely loyal creatures, and their tears can bring a person back from the brink of death.
2. Centaur
Centaurs were once classified as "Beings" rather than "Beasts," but starting around or after 1811, the centaurs rejected the "Being" classification since they would have had to share it with the likes of hags and vampires. These are highly intelligent beasts, even more so than humans, and have come to the aid of wizardkind before.
1. Dragon
BRING ON THE FIRE! We know Newt worked with dragons during World War I. It's also said that the Ukrainian Ironbellies he was sent to help wrangle would respond only to him. With dragons on his side, no one would dare try to best Newt!
We'd love to hear from you! What creatures would you like to see appear?