"Career of Evil" TV Tie-In Edition Cover Revealed
Last year, Robert Galbraith's (J.K. Rowling's) first two Cormoran Strike novels, The Cuckoo's Calling and The Silkworm, saw the release of TV tie-in editions to help promote the BBC adaptation. And we now have the cover for the third TV tie-in edition, Career of Evil, to be released on February 22, 2018!
The cover again features the series' stars, Tom Burke as Cormoran Strike and Holliday Grainger as Robin Ellacott, with a quote from the Observer telling readers it "will keep you up all night."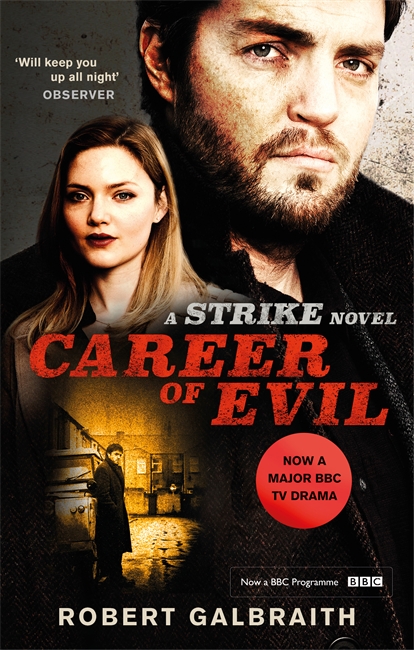 The TV adaptation's first season, which encompassed the stories of The Cuckoo's Calling and The Silkworm, premiered in the UK last year, while the second season, covering the story of Career of Evil, is expected to air in 2018. For viewers in the US and Canada, the series has been renamed C.B. Strike and will air on Cinemax in June.
Those wishing to own the TV series can purchase a DVD version of The Cuckoo's Calling, available in the UK now. And we just learned this week that the Silkworm DVD is coming on February 19.
For more on the series, you can check out MuggleNet's interview with Tom Burke here and our review of the Cuckoo's Calling DVD here.
Meanwhile, book fans are still eagerly anticipating Robert Galbraith's fourth novel in the series, Lethal White, which is still without a release date. J.K. Rowling recently revealed on Twitter that the book will be the longest of the series so far. We can't wait!