Castium Revelio: Don't Mark This One as Spam!
Welcome back to another week of Casting News, in which we bring you all the latest updates on the upcoming projects that our wizarding world alumni have in store! This week's post includes some new film roles, a poster, and even a comic! Let's take a look!
First up is director Chris Columbus, the director of the first two Harry Potter films! According to Deadline Hollywood, Columbus will be both writing and directing a screen adaptation of the video game Five Nights at Freddy's, "which centers on a security guard battling animatronic robots that come to life in a Chuck E. Cheese-like venue." The game's creator, Scott Cawthon, will produce alongside Columbus and the Blumhouse production company's Jason Blum. Blumhouse teased the news with a tweet accompanied by the image of two directors' chairs, one marked with the name Freddy Fazbear (the franchise's eponymous "Freddy") and one marked with the name Chris Columbus.
Mr. Columbus, are you ready for Freddy? #FiveNightsatFreddys pic.twitter.com/4F7QEnw16x

— Blumhouse (@blumhouse) February 12, 2018
Columbus also has another upcoming project, the film I Kill Giants, which he is producing through his production company, 1492 Pictures. That film now has its first poster, as shared by actress Zoe Saldana to her Facebook page. The poster sees the character Barbara, played by actress Madison Wolfe, pictured from behind as she faces down a giant. Check it out below!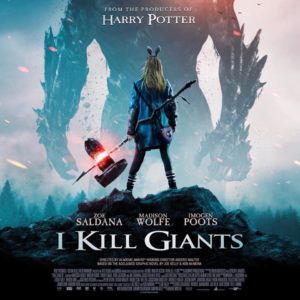 A trailer has already been released for the film. I Kill Giants is set to be released on March 23.
Robert Pattinson (Cedric Diggory) has a new role! As reported by the Hollywood Reporter, he has joined the fantasy horror film The Lighthouse, which will also star actor Willem Dafoe. The film, which is a project by writer-director Robert Eggers, "is set in the world of old sea-faring myths, taking place in Nova Scotia in the early 20th century and centering on an aging lighthouse keeper (Dafoe)." Filming is set to begin this spring.
Additionally, ShowbizJunkies has reported on the first look at Pattinson in character for the film High Life, which is described as a "sci-fi adventure" in which "[a] father and his daughter struggle to survive in deep space." The first photo of Pattinson shows him in some sort of space helmet.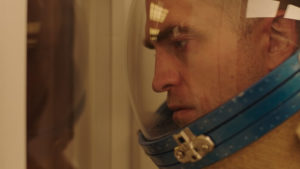 Callum Turner (Theseus Scamander) has joined Guy Myhill's The Secret of the Universe alongside actor Josh O'Connor, writes Variety, which additionally provided a description of the film.
In 'The Secret of the Universe,' O'Connor portrays Fergie and Turner his cousin Perry. The pair roam the countryside in a small traveling circus, drinking, gambling and behaving recklessly. But as they fall in and out of tangled relationships, they have to face up to the grown-up emotions and people involved.
Filming is set to begin on The Secret of the Universe this fall.
Zoë Wanamaker (Madam Hooch) and Tolga Safer (Igor Karkaroff's aide) both appear in the new series Britannia, a co-production between Sky and Amazon Prime Video. The series airs on Sky Atlantic in the UK, while it is available for streaming on Amazon Prime Video in the US. Wanamaker plays the role of Queen Antedia, while Safer plays the role of Aziz. Due to mature content, the trailer may not be suitable for those under the age of 18.
With the upcoming Han Solo film, Solo: A Star Wars Story, set to be released on May 25, Domhnall Gleeson (Bill Weasley) has spoofed some spin-off film possibilities for his own Star Wars character, General Hux. The actor pitched his ideas in a video for MTV's After Hours, as Nerdist reports. The suggestions are comical, including a film noir spin-off called If Hux Could Kill. Watch the full video below!
It's an exciting time for Dan Fogler (Jacob Kowalski): His comic, Brooklyn Gladiator – Volume Zero, now has a release date! The Geekiary writes that the comic, under Chapterhouse Publishing, will be released on April 11.
Joined by Andrew Harrison, Ben McCool, and artist Tom Hodges ('Star Wars'), with cover art by Glenn Fabry ('Preacher'), 'Brooklyn Gladiator' is 'a vivid, violent, and frightening glimpse into a fictional future that feels all too familiar, a future we may find ourselves sleepwalking into if we're not careful.'
The Geekiary notes that Jay Baruchel, CCO of Chapterhouse, "was the one who originally approached Fogler to join the company's roster." Baruchel additionally commented on the upcoming release.
Dan first pitched me this idea years ago and I've been waiting eagerly for it ever since. I knew Chapterhouse had to put it out.
David Tennant (Barty Crouch, Jr.) will be appearing in the upcoming second season of Marvel's Jessica Jones, which will be released on Netflix on March 8. That same day, members of the cast and crew will be taking part in a special event at the Paley Center for Media in New York, writes David-Tennant.com. Although Tennant himself is not scheduled to appear, the event will feature a screening of the first episode of the new season, plus a Q&A session to follow. More information on the event can be found here.
Jason Isaacs (Lucius Malfoy) was worried that he would be sent abuse after his satirical film The Death of Stalin was banned in Russia, he told BANG Showbiz, as reported by Celebretainment.com. The site notes that Isaacs, who played Georgy Zhukov, "who was the Chief of General Staff and a member of the Politburo in Joseph Stalin's Communist Soviet Union government in the 1940s and 1950s," decided to make Zhukov sound as though he were from the North of England.
I found it mildly amusing [that it was banned] until I saw they singled out my performance out and said it was a tremendous insult to one of the greatest war heroes. I was worried I would get some radioactive tea in the post.
Dame Julie Walters (Mrs. Weasley) is taking a stand against proposed cuts to domestic abuse shelters in the UK. Messenger writes that Walters – along with Kate Green, MP for Stretford and Urmston, and other MPs – is calling on Prime Minister Theresa May not to change housing benefits that could negatively impact women and children who are housed in these shelters, also known as refuges. The petition created by Women's Aid and 38 Degrees, "SOS: Save Refuges, Save Lives," has received over 170,000 signatures. Messenger highlights the implications of the proposed changes.
A survey by Women's Aid found that 39 per cent of refuge services said they could be forced to close their doors for good as a result of the proposed funding changes, and a further 13 per cent could be forced to reduce the number of bed spaces available.
Walters, a supporter of Women's Aid, also commented on the changes.
These shelters do extraordinary work on a shoestring budget, yet the government's planned changes to the way they are funded threaten them with closure. These life-saving refuges must be protected so that every woman and child can escape domestic abuse.
For more information about Women's Aid, visit their website here.
Imelda Staunton (Dolores Umbridge) has opened up about her career and marriage to actor Jim Carter in an interview with Express. She also discussed one of her latest projects, the film Finding Your Feet, which also stars Timothy Spall (Peter Pettigrew). Staunton addressed how the film, in which she plays a woman who moves in with her estranged sister and joins a dance class after discovering that her husband has been having an affair with her best friend, helps to fit a returning demand for "grown-up movies."
My generation used to go to the cinema every week. We are now returning and there is an appetite for grown-up movies. I can't remember a moment in recent times when there has been a wider choice. There are always going to be scripts that will not suit and they are in the majority. So when a good one comes along you grab it.
Finding Your Feet is set for theatrical release on February 23 in the UK and Ireland and on March 30 in the US.
John Cleese (Nearly Headless Nick) is starring in a new BBC One sitcom called Hold the Sunset. As TV Over Mind notes, the series "ventures into the unfortunate but all-too-familiar world of an adult child returning home to his parents and deciding to stay for a while. A long while." The show also stars Alison Steadman and Jason Watkins, and you can watch the trailer below!
Hold the Sunset premieres on BBC One today, Sunday, February 18, at 7:30 p.m.
James Phelps (Fred Weasley), meanwhile, will be joining a production of Monty Python's Spamalot, the musical comedy adapted from Monty Python and the Holy Grail. The production at the New Theatre Royal in Portsmouth will feature James in the role of Sir Not Appearing A Lot for their February 21 performance.
The show will run from Tuesday, February 20 to Saturday, February 24. Limited tickets are available for £10 for those under the age of 25. More information can be found on the theater's website here.
Stephen Fry, who narrated the UK versions of the Harry Potter audiobooks, will take part in Net-a-Porter's "Letters Live" event in Los Angeles, writes the Hollywood Reporter. Letters Live "enlists A-list talent to read and perform correspondence from iconic historical figures." Scheduled to take place at the Theatre at Ace Hotel on February 26, this is the first Letters Live event in the US. Among others set to appear at the event is singer Jarvis Cocker, who made a cameo appearance in Harry Potter and the Goblet of Fire as Myron Wagtail, the lead singer of the Weird Sisters.
Tickets to Letters Live are available for purchase here. Net proceeds will go to the non-profit organization 826LA.
The 71st British Academy Film Awards (BAFTAs) are tonight (February 18), and the confirmed list of attendees includes two notable names! David Heyman, the producer of all eight Harry Potter films and both Fantastic Beasts films so far, will be in attendance. He produced Paddington 2, which has been nominated for the Best British Film award. Gary Oldman (Sirius Black) will also be in attendance. He is a nominee for Best Actor in a Leading Role for his role as Sir Winston Churchill in Darkest Hour.
That's all for this week's Casting News! Which upcoming project are you most excited to watch? Tell us in the comments below!