"Strike: The Silkworm" Coming to DVD This February
At the end of last year, we were excited when the first part of the BBC Strike series, The Cuckoo's Calling, was released on DVD. Now, we don't have to wait much longer for the second installment to be available on DVD so that we can rewatch it as much as we want.
The DVD, featuring both parts of The Silkworm and with a total running time of 120 minutes, will be released in the UK on February 19. As with the first part, there will be a behind-the-scenes featurette included on the disc.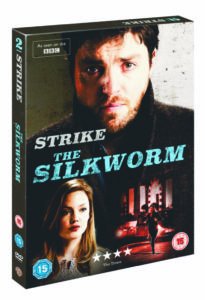 Here's a little bit about what to expect from the second Strike story, if you haven't watched (or read) the series yet.
Tom Burke, who most recently starred in BBC's epic War & Peace as Fedor Dolokhov and in The Musketeers as Athos, is Strike, a war veteran turned private detective operating out of a tiny office [on] London's Denmark Street. Following his success in solving the Lula Landry case, Strike's detective agency has been busy. A new client, Leonora Quine, appeals to Strike's sensibilities with the case of her missing author husband, [which] leads Strike into the depths of London's literary world.

Holliday Grainger, who most recently starred in BBC's Lady Chatterley's Lover as Lady Constance Chatterley, is Robin Ellacott, Strike's assistant. Robin's beginning as a temporary secretary has evolved into her current role as Strike's indispensable assistant, working alongside him and delving deeper into the hidden meanings and concealed secrets of the Bombyx [m]ori case.
The DVD will be sold in the UK for £10.
Will you be adding The Silkworm to your Strike collection?