Castium Revelio: An Alley That Isn't Diagon!
Welcome back to another week of Casting News, where we update you on what our magical alumni have in store! This week's projects include a long-lost Hollywood script, a popular soap opera, and a new television pilot. Ready to learn more? Castium Revelio!
Emma Thompson (Professor Trelawney) has teamed up with the production company Bad Wolf to develop the period horror thriller Harrow's Alley as a television project for HBO, according to a report from Deadline Hollywood. Describing Harrow's Alley as "one of Hollywood's long-lost scripts," Deadline Hollywood also provided some background on the script's history:
The original script was written by Walter Newman, who was nominated for three Oscars, 1951's 'Ace In The Hole', 1965's 'Cat Ballou' and 1978's 'Bloodbrothers', in the 1960s but never managed to make it to screen, despite the involvement of George C Scott and other high-profile talent, as a result of its dark subject matter and big-budget requirements.
The project is reportedly in the earliest stages of development, though it's sure to be intriguing; Harrow's Alley is set during the time of the Black Plague.
Harrow Alley is set during the black plague in the 17th century and follows an English town as it deteriorates. It follows the fortunes of two men, likeable but lawless rogue Ratsey and well-meaning alderman Harry, who are both trying to survive the dangers of the time.
Harry Potter and the Cursed Child playwright Jack Thorne is also working with Bad Wolf on the upcoming BBC television adaptation of Philip Pullman's The Golden Compass, for which he is the scriptwriter. The series' lead role has now been cast: actress Dafne Keen will be playing the role of Lyra Belacqua.
Sophie Thompson (Mafalda Hopkirk) has made her debut on the long-running soap opera Coronation Street. It seems that playing clairvoyants must run in the family, as Thompson (sister to Emma Thompson) is playing a clairvoyant named Rosemary on the show.
Bill Nighy (Rufus Scrimgeour) is rumored to be a part of Marvel's upcoming film Avengers: Infinity War! If what Cosmic Book News has posted is true, the actor will be lending his voice to Ebony Maw, a member of Thanos's (played by Josh Brolin) Black Order.
Geraldine Somerville (Lily Potter) is currently starring in the play Checkpoint Chana at the Finborough Theatre. The play, which was seen as a staged reading during Vibrant 2017 – A Festival of Finborough Playwrights, had its first performance on March 4, followed by a press night on March 5. A press release from the theater provides a description of the play:
Poet Bev Hemmings is in the eye of a storm after she publishes a poem that the world seems to believe is anti-Semitic. She's convinced she's innocent, but everyone else – including her PA, Tamsin – wants her to apologise. A press interview is planned to begin her public rehabilitation, but Bev's dying father, erratic behaviour and tendency to drink make her public contrition a complex process.

'Checkpoint Chana' examines the point where pro-Palestinian criticism of the government of Israel and anti-Semitism blur.
Checkpoint Chana runs Sundays, Mondays, and Tuesdays at the Finborough Theatre in London until March 20. For more information, including ticketing information, you can visit the theater's website.
Fans of John Williams, who composed the scores for the first three Harry Potter films, will be disappointed to hear that the composer has announced that the score of Star Wars: Episode IX will be his last for the franchise. In a report from Heroic Hollywood, Williams was quoted as saying that the series of nine films would be "quite enough" for him.
Fortunately, however, Williams isn't saying goodbye to Star Wars just yet! An album of his greatest compositions, titled John Williams: A Life in Music, is set to be released on May 4! uDiscoverMusic reported on the album, which has been recreated with the London Symphony Orchestra.
'John Williams: A Life in Music' will feature music from 'Star Wars', 'Jurassic Park', 'E.T.', 'Superman' and many more, newly recreated with the 86-piece London Symphony Orchestra.

The LSO recorded many of the original versions of the pieces, and the album includes a world premiere recording of 'Schindler's List' for cello, never previously heard. The collection was conducted by Gavin Greenaway and recorded at Air Studios in London. Williams' close association with the LSO goes back almost 40 years.
The London Symphony Orchestra's first performance of "Hedwig's Theme" is also included on the album.
Additionally, Williams will be conducting the London Symphony Orchestra at London's Royal Albert Hall on October 26.  This will be "the first time he has performed in the UK since an appearance at the Barbican (where the LSO are resident) 20 years ago."
A memorial has been planned for the late Robert Hardy (Cornelius Fudge) at this year's Tewkesbury Medieval Festival, to which Hardy had contributed annually since 2014. Gloucester Live reported the news, commenting that the actor had helped to save the event site, that of the 1471 Battle of Tewkesbury, from developers.
Although no firm plans have been announced for the memorial, a spokeswoman for the festival described Hardy as being known for "carrying out the opening ceremony with a fiery speech – usually Shakespearean – surrounded by men in armour before mingling happily with the crowd."
Final details have not yet been settled but there will be a memorial of some kind, almost certainly based around his love of and skill with the English longbow to mark the important part he has played in the internationally renowned event.
This year's Tewkesbury Medieval Festival will be held on July 14 and 15.
Luke Youngblood (Lee Jordan) has been cast in a new pilot from the CW, as the actor shared on his Instagram stories. The dramedy, titled Playing Dead, will include Youngblood in the role of Oliver Barnes. As an article from Deadline Hollywood states, the character will be a best friend to the series' main character, Joe, "a single-dad mortician" whose ex, Isabel, returns and wants him and their son to fake her death. A description of Youngblood's role was provided:
Youngblood will play Oliver Barnes, Joe's loyal, longtime assistant at the funeral parlor as well as his best friend. He clearly blames Isabel for causing Joe so much pain and has no problem making that clear to them both.
Because the show is still in the pilot stage, no air date is certain.
Cíaran Hinds (Aberforth Dumbledore) can be seen on the upcoming AMC television series The Terror, which premieres later this month. The ten-part series is being produced by Ridley Scott, and GamesRadar+ has called it "a chilling fusion between The Thing and Master and Commander."
Set in 1847, and based on a novel by Dan Simmons, it follows the crews of two British ships – The HMS Erebus and The HMS Terror – as they attempt to map out a trading route between England and China by cutting through the Arctic circle. Lead by Captain John Franklin (Ciarán Hines [sic]), with Frances Crozier (Jared Harris) and James Fitzjames (Tobias Menzies) his seconds in command, the expedition quickly finds itself in trouble as the ships become wedged in the arctic ice as the sea freezes over for winter. Although they're well provisioned, the threat of being crushed as the ice-pack moves creates tension among the senior officers, and after one exploration party meets what they initially suppose to be a polar bear (clue: it really, really isn't) everything goes from bad to worse…
The Terror premieres on AMC on March 26. It will begin airing in the UK on BT TV on April 24.
According to a report from Variety, Ralph Fiennes (Lord Voldemort) has joined the cast of the thriller film Official Secrets, which also stars actors Matthew Goode and Kiera Knightley.
The pic tells the true story of British Intelligence whistle-blower Katharine Gun (Knightley), who, during the immediate run-up to the 2003 Iraq invasion, leaked a top-secret NSA memo exposing a joint U.S.-U.K. illegal spying operation against members of the UN Security Council. The memo proposed blackmailing smaller, undecided member states into voting for war.
Filming for the project begins today in Yorkshire. Fiennes's role has not been announced.
Photos from the set of Vox Lux, which stars Jude Law (Albus Dumbledore, Fantastic Beasts), have been released. The musical drama also stars Natalie Portman and Jennifer Jason Leigh. ComingSoon.net, which posted the shots from the set, also provided a brief description of the film:
'Vox Lux' follows the rise of 'Celeste' from the ashes of a major national tragedy to pop superstardom. The film spans 15 years and traces important cultural moments through the singer's eye, starting in 1999 and ending in the present day.
Law is reportedly serving as an executive producer on the project, alongside Portman and recording artist Sia.
Frank Dillane (16-year-old Tom Riddle, Half-Blood Prince) can be seen in new stills from his television series Fear the Walking Dead, as posted by the show's official Twitter account.
Morgan and Nick clash in these newly-released images from #FearTWD Season 4: https://t.co/59Wc0sHmd6 pic.twitter.com/TFTrFEuuq8

— The Walking Dead (@TheWalkingDead) March 6, 2018
Dillane, who plays character Nick Clark on the show, is returning for its upcoming fourth season. It will begin airing on AMC on April 15.
The trailer for Disney's Mary Poppins Returns has been released! The film, which features Dame Julie Walters (Molly Weasley) as Ellen, is set to be released on Christmas Day, December 25. It stars Emily Blunt as Mary Poppins, alongside Lin-Manuel Miranda as Jack.
You can watch the film's trailer below!
Toby Jones (Dobby) has been cast as the voice of Owl in the upcoming Disney film Christopher Robin, according to an official announcement. A teaser trailer and initial poster have also been released for the new film, which stars Ewan McGregor as a grown-up Christopher Robin.
You can find the poster and teaser trailer below.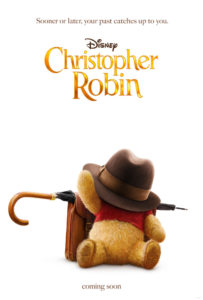 Finally, we would like to thank MuggleNet reader Arthur for bringing our attention to the film God's Own Country, which features both Ian Hart (Professor Quirrell) and Gemma Jones (Madam Pomfrey)! The film, which had its theatrical release last year, is about a farmer from Yorkshire who falls in love with a Romanian migrant worker.
You can watch the trailer for God's Own Country below.
God's Own Country is available on Blu-ray, DVD, and digital.
That wraps up this week's Casting News! Which project are you most excited for? Be sure to stay tuned for our next update, and let us know your thoughts on this week's post in the comments below!