How Are People Apparating Inside Hogwarts in "Crimes of Grindelwald"?
"One day, you'll read Hogwarts: A History, and perhaps that will remind you that you can't Apparate or Disapparate inside Hogwarts" (OotP 23). This was the fifth time in the Harry Potter books that Hermione informed another character that Apparating within the grounds of Hogwarts was impossible due to an anti-Apparition enchantment placed on the castle. Unsurprisingly, when fans saw the teaser trailer for Fantastic Beasts: The Crimes of Grindelwald for the first time, they were bewildered by the appearance of three figures Apparating onto a bridge within the castle's grounds. I'm a nitpicky fan when it comes to these sorts of matters (see my gripes with the film adaptation of Harry Potter and the Half-Blood Prince), so when I watched this part of the teaser, I thought to myself, "Here they go again."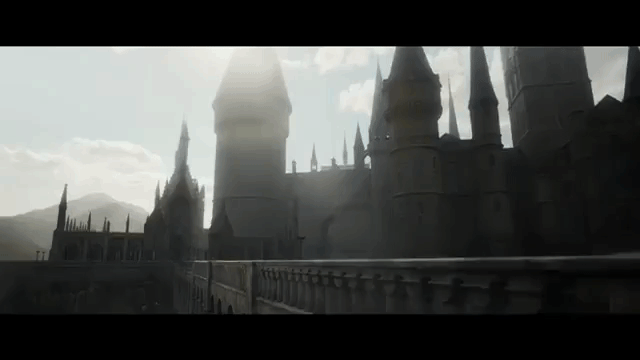 Fans started to speculate with regard to why Apparition within Hogwarts was suddenly possible. Some suggested that the crimes of Grindelwald, committed during the events of the Fantastic Beasts pentalogy, would result in Hogwarts' defenses being tightened. Others suggested that Dumbledore placed the enchantment on the castle once he had become Headmaster.
The second theory is plausible if you assume that Cornelius Fudge attended Hogwarts prior to Dumbledore's ascension to the position of Headmaster. In Chapter 22 of Harry Potter and the Prisoner of Azkaban, Fudge bemoans Sirius's escape and tells an infuriated Snape that "he must have Disapparated." This could mean one of two things – either Fudge has never read Hogwarts: A History or Apparating and Disapparating inside Hogwarts was possible when Fudge was a student there.
Despite Dumbledore's reputation as one of the greatest wizards of all time, there's nothing special about anti-Apparating buildings. Dumbledore tells Harry during his expedition to recruit Horace Slughorn as Potions Master that "most wizarding dwellings are magically protected from unwanted Apparators" (HBP 4). This suggests that Hogwarts may have already had anti-Apparition charms placed on it prior to Dumbledore becoming Headmaster. However, the first theory is implausible if you consider Rita Skeeter's statement in The Life and Lies of Albus Dumbledore that "Grindelwald never extended his campaign of terror to Britain" (DH 18). If this is true, then don't expect to see Grindelwald at Hogwarts anytime soon.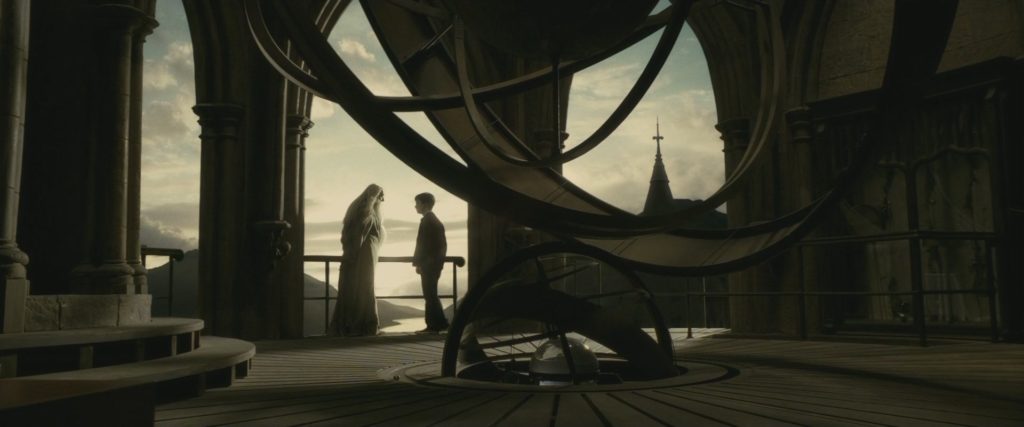 This isn't the first time that there's been an inconsistency regarding Apparition within Hogwarts. In Harry Potter and the Order of the Phoenix, Dumbledore avoids being taken into custody by the Ministry by Apparating out of his office with Fawkes. In Half-Blood Prince, though, Dumbledore and Harry have to walk to Hogsmeade before Apparating to Voldemort's cave. This implies that Fawkes has more powers than simply his tears. However, the Half-Blood Prince film complicates things. In that film, Dumbledore and Harry Apparate from Hogwarts' Astronomy Tower to the cave.
Also in Half-Blood Prince, Dumbledore has this to say about security at Hogwarts:
Do you think that I have once left the school unprotected during my absences this year? I have not. Tonight, when I leave, there will again be additional protection in place. Please do not suggest that I do not take the safety of my students seriously, Harry.
Did Dumbledore and Harry have to Apparate to the cave via Hogsmeade because of these additional protections? If this is the case, then we can give additional credence to the theory that Dumbledore couldn't have escaped Hogwarts in Order of the Phoenix without the help of Fawkes.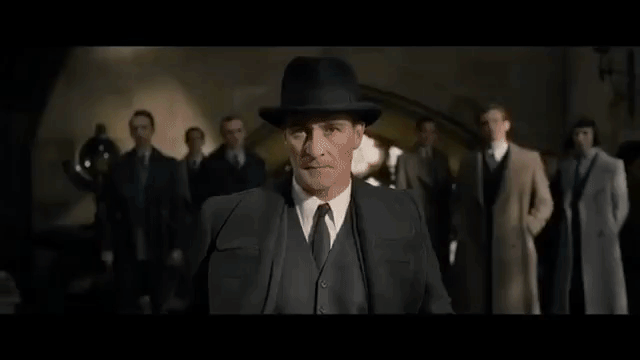 Another possible explanation for wizards Apparating onto the grounds of Hogwarts in Crimes of Grindelwald is that the Headmaster or Headmistress at the time has given special permission to these Ministry officials. It's important to note at this stage that the people we see Apparating onto the bridge (two of whom appear to be Theseus Scamander, Head of the Auror Office, and his fiancée, Leta Lestrange) don't appear to be the same people interrogating Dumbledore in the Defense Against the Dark Arts classroom. Dumbledore tells his interrogators, "This is a surprise." Perhaps Theseus and his company are less unwelcome as visitors because they've been invited.
In Half-Blood Prince, Snape and Draco had to run beyond the gates of Hogwarts before Disapparating, despite Dumbledore being dead. This suggests that Hogwarts' anti-Apparition enchantment works independently of its Headmasters or Headmistresses. Additionally, when Dumbledore died, the Body-Bind Curse that he placed on Harry was lifted. If Dumbledore was responsible for ensuring that you couldn't Apparate or Disapparate inside Hogwarts, wouldn't the enchantment have been lifted by his death? Perhaps the inability to Apparate or Disapparate inside Hogwarts is a feature that was built into the school by its founders. Unfortunately, this theory can be disputed as well. In Half-Blood Prince, the Ministry Apparition Instructor, Wilkie Twycross, tells the students that Dumbledore had lifted the anti-Apparition enchantment in the Great Hall to allow them to practice.
This is quite the conundrum! I cannot for the life of me figure out how people are Apparating inside Hogwarts in Crimes of Grindelwald. If you have your own theory as to why this is happening, please comment below.