Social Media Roundup: #earEar
Is it just us, or is 2018 whizzing by? We've certainly been busy, and so have your favorite wizarding world figures! Here's what a few of them have been up to.
As we reported earlier this month, James and Oliver Phelps (Fred and George Weasley) presented at the Pride of Birmingham Awards. They presented the Young Fundraiser Award to 10-year-old Tristan Price.
The Phelps twins also visited Help Harry Help Others, the cancer support charity for which they're ambassadors.
The twins also posted separately in support of Birmingham Children's Hospital's Big Bandage 2018 day, with Oliver making Weasley jokes in his post.
The Phelps twins aren't the only Potter alumni who have been busy this March. Chris Riddell, illustrator of the color edition of The Tales of Beedle the Bard, seems to have completed all the illustrations for the book, which will be released in October.
Finished! pic.twitter.com/t6bRJoT3gF

— chris riddell (@chrisriddell50) March 18, 2018
Katie Leung (Cho Chang) was out and about this month representing Ravenclaw.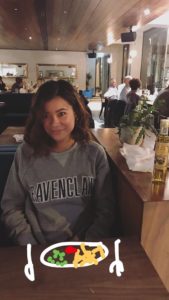 Chris Rankin (Percy Weasley) was recently at La Mole Comic Con. He posted multiple pictures from the event, including this shot of Percy fan art by Puis Calzada.
Meanwhile, Evanna Lynch (Luna Lovegood) reposted this spelling reminder for all St. Patrick's Day revelers from user @twisteddoodles.
And Zoë Kravitz (Leta Lestrange) shared her first selfie from the set of the second season of Big Little Lies.
That's it for this week's Social Media Roundup! Keep your eyes peeled to see what your favorite wizarding world folks will be up to in the weeks to come.