What Could Be Waiting for Newt in Paris? – Hopes and Theories for "Crimes of Grindelwald"
It probably doesn't come as news to any of you that the trailer for Fantastic Beasts: The Crimes of Grindelwald was released just a few weeks ago. Although we will still have to wait until November to see the actual movie, plenty of theories about the plot have already surfaced. In true MuggleNet fashion, we will continue that streak of research and add to that a little more, starting out with some facts and ending on a few hopeful predictions. Guesswork? Yes. Grabbing at threads? Absolutely. With that said, let's focus on Newt Scamander and most specifically, the things he could be facing in Paris.
From the trailer, we know that the Ministry suspects that Dumbledore sent Newt to Paris on a mission. Why this is the case, however, is still an unanswered question. We do know that Nicolas Flamel is supposed to play a role in this film. It can't be a coincidence that the real Flamel lived in Paris while he was alive. Hence, it is likely that Newt is on his way to Flamel for a reason yet unknown. Could it have something to do with the Sorcerer's Stone? Flamel's other research? Does Dumbledore suspect that Flamel might know of a way to stop Grindelwald?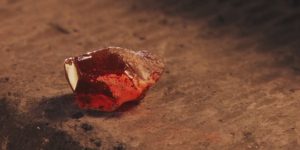 With the introduction of Nicolas Flamel, whom we already know from Harry Potter and the Sorcerer's Stone, one might wonder what other connections there could be between the Fantastic Beasts movies and the world of Harry Potter as we know it.
Let's list a few facts:
At the start of the Crimes of Grindelwald trailer, we find ourselves back at Hogwarts, the wizarding school that we are most familiar with.
Grindelwald used to go to Durmstrang, the wizarding school that is known for "its unfortunate tolerance of the Dark Arts" (DH 394).
In Crimes of Grindelwald, Newt is in Paris, France.
Hmmm… What is missing from this picture? What do we know about wizards, witches, and their culture in the French wizarding world? Which school did Nicolas Flamel likely attend?
That's right. Beauxbatons. Could it be that Crimes of Grindelwald will somehow once more bring the three European wizarding schools that compete in the Triwizard Cup together? Will Newt get in touch with Beauxbatons or its students? Who knows?
This theory may seem far-fetched, but consider this: that flying carriage pulled by Thestrals in the trailer? The one with Grindelwald in it? Doesn't that look like the way of transport used by the students of Beauxbatons to get to Hogwarts in Harry Potter and the Goblet of Fire? True, they might be Thestrals instead of the winged horses we're used to, but the likeness is still there.
It's probably more of a hope than an actual theory based on solid facts, but I, personally, would definitely love to see more of wizarding schools other than Hogwarts in Crimes of Grindelwald as well as the other Fantastic Beasts movies. Could it be that we get a glimpse of Beauxbatons in this one? Will that be where Nicolas Flamel is doing his research? Will it be a way to lead up to an introduction of Durmstrang in further movies, as we get more insight into Grindelwald's character? I surely wouldn't mind if it were.