New "Harry Potter" Funko Figures Coming This Summer!
Funko recently revealed a new line of Harry Potter Pop!, Vynl, and Mystery Mini figures coming to stores this summer! The Pop! collection clearly has a Harry Potter and the Chamber of Secrets theme, with new variations of the trio and other popular characters as well as some completely new characters specific to Book 2. You can find the new Funkos on store shelves starting in July, but pay close attention if you're looking for a specific one because many of the figures are exclusively sold in only one store.
You will soon be able to purchase individual Harry, Ron, and Hermione Pop!s all dressed up for Herbology class. The Pop!s are trying their best to not "neglect their earmuffs" as they each hold a mandrake in varying stages of distress. If you look closely at the mandrakes' faces, you can see that Ron's appears to be particularly upset in mid-scream, Hermione's is frowning deeply, and Harry's just looks particularly annoyed at being plucked from his comfy soil bed. You can find the Herbology Pop!s together in one set, but only at Barnes & Noble.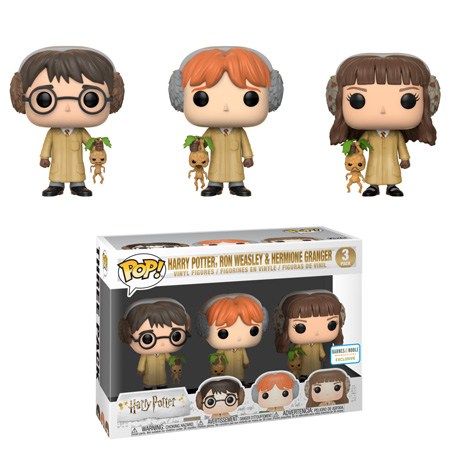 There is a new Ginny Pop! featuring Tom Riddle's diary as well as two new Tom Riddle Pop!s. The first Riddle is in the form that he takes when he meets Harry in the Chamber of Secrets, and the second is a sepia-toned Riddle from the images Harry sees when he is transported into the diary. Sepia Tom Riddle can only be purchased at Target.
Nearly Headless Nick will be making his first Funko appearance this summer, and it seems that Funko tried its best to remain as accurate as possible by giving him a partly detachable head. You can also pick up two new versions of Gilderoy Lockhart, one in brown robes and the other in blue. The blue-robed Lockhart is another Barnes & Noble exclusive.
If you want to upgrade from the smaller figurines, there will also be a new 6″ Basilisk and 10″ Dobby available only at Target.
There are 12 new individual Mystery Minis coming out along with three store-exclusive sets. At Target you can purchase Harry, Hermione, and Ron in their Quidditch World Cup gear. Lucius Malfoy, a sepia-toned Tom Riddle, and a different version of Harry will be available only at Hot Topic. Moaning Myrtle and a regular Tom Riddle can be found at Barnes & Noble along with a particularly ferocious-looking Basilisk.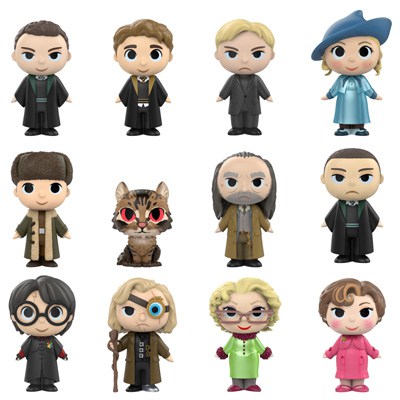 The other Mystery Minis include Vincent Crabbe, Cedric Diggory, Draco Malfoy, Fleur Delacour, Viktor Krum, Mrs. Norris, Argus Filch, Gregory Goyle, Quidditch Harry, Mad-Eye Moody, Rita Skeeter, and Dolores Umbridge.
Two new Vynl sets of Hermione and Ron will also be released this summer. The first set features Hermione holding a book and Ron holding Scabbers. The second set, which will only be available at Barnes & Noble, is very similar, but Ron is holding a broken wand.