Universal Studios Japan Launches New "Spectacle Night Parade"
Universal Studios Japan announced last month that it would soon be debuting its new "Spectacle Night Parade – The Best of Hollywood," and we've been anxiously awaiting its arrival ever since.
Universal promised that the new parade would be "a mind[-]blowing experience" utilizing new projection-mapping technology.
Witness the transformation of the park through the meticulous synchronization of projection mapping, lighting, and show orchestration technology designed by Universal Studios Japan. Experience the extreme realism and be transported to the heart of the story!
Now that we've seen the video, it's obvious that USJ has not let us down. The parade is so much more than just floats and waving characters – it is a fully immersive experience that puts you right in the middle of the movies. The event looks so incredible, it's likely that we'll be booking our tickets to Japan any day now!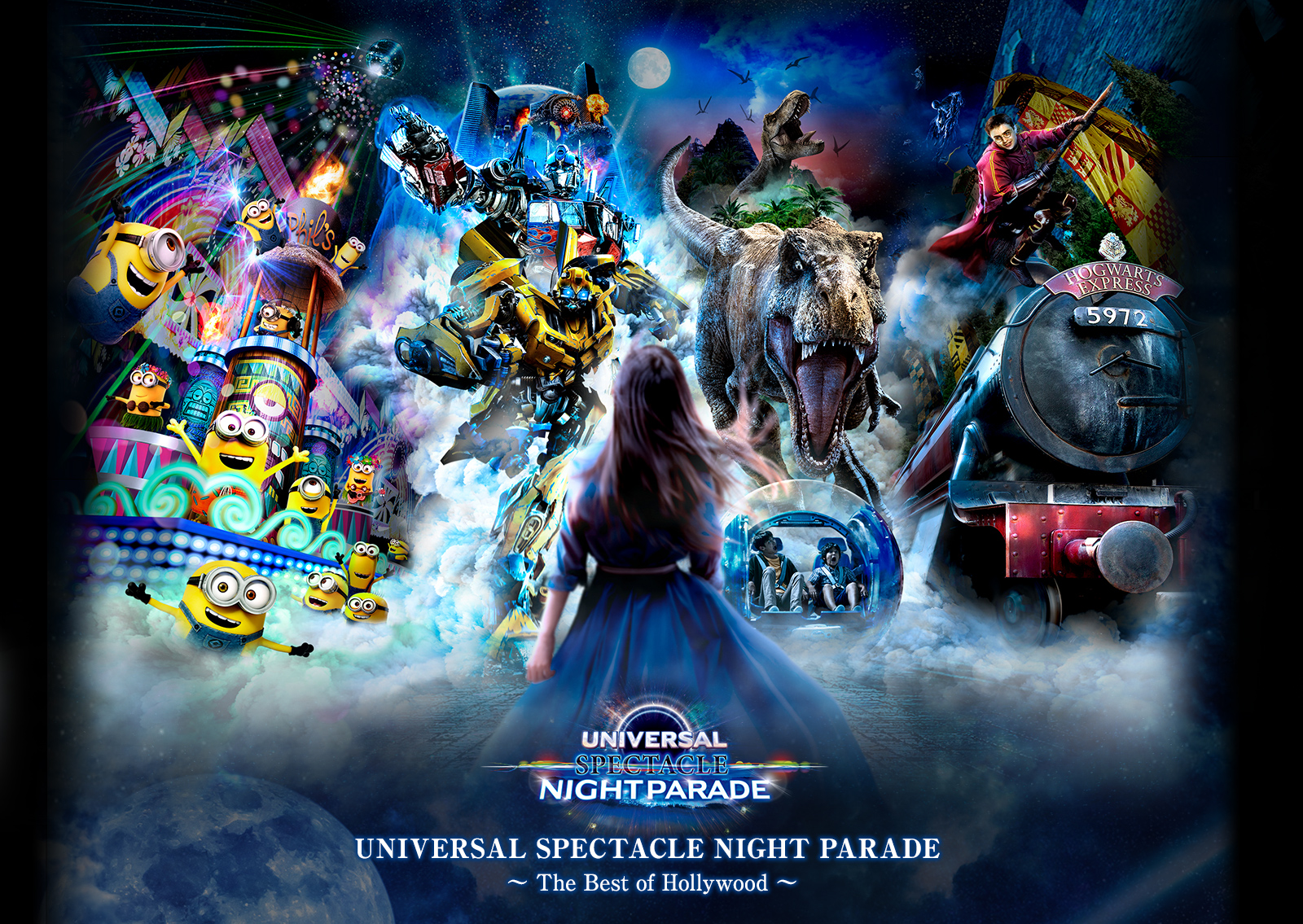 After a single introductory title float, the parade officially kicks off with Harry Potter, so we aren't left waiting long before our favorite part! In the dark, four Hogwarts students approach, pushing luggage trolleys illuminated by lanterns as "Hedwig's Theme" begins to play. As they get closer, you can see following close behind is the beautiful scarlet steam engine of the Hogwarts Express.
The projection-mapping technology is stunning as the surrounding walls suddenly become covered with fog and Dementors streak past from all directions. It feels as if you are part of the parade right along with the performers as the 360-degree display lights up around you. The train windows feature the same technology as on the ride, so you can see and hear the students in the compartments on their way to school.
Following the Hogwarts Express are performers dressed as Quidditch players and an impressive Quidditch pitch featuring a Gryffindor and Slytherin player mounted on broomsticks. The players suddenly find themselves in the center of another swarm of swooping Dementors as the buildings all around are illuminated once again. A battle begins as the players pull out their wands and start firing off spells to ward off the Dementors.
The Quidditch pitch is followed by another group of Hogwarts students and a detailed float of a segment of the castle. The students on the float fight two masked Death Eaters in a well-choreographed routine. Once the villains are vanquished in a puff of smoke, the students turn to take on the Dementors. In a group effort, they join together to cast Expecto Patronum, defeating the Dementors to an uproarious cheer from the crowd!
The whole parade lasts about 25 minutes and goes on to feature more elaborate floats from Transformers, Jurassic World, and Minions. If you're not fortunate enough to see this fantastic parade in person, you can watch the video below! If you're only interested in the Harry Potter segment, it begins around 3:00 and is about five minutes long.