Castium Revelio: Sequels and Keynote Speakers!
by Mary Wojcicki · Published · Updated
It's time for MuggleNet's Casting News, your weekly update on the latest projects from our magical alumni! What do they have in store for us? Castium Revelio!
Harry Potter
Warwick Davis
(Professor Flitwick/Griphook) is taking on the Lake District with adventurer Bear Grylls for ITV, reports the
Irish Independent
. The hour-long program is titled
Bear's Mission with Warwick Davis
, and it will chronicle their two days in the Lake District. No airdate has been announced yet.
Ralph Fiennes (Lord Voldemort) is set to help launch the latest novel of Booker Prize–winning author Michael Ondaatje, the Eastern Daily Press writes. The actor will be at the Cut in Halesworth, Suffolk, on June 12 to read excerpts from Ondaatje's novel, which is titled Warlight.
Fiennes previously starred in the film adaptation of Ondaatje's The English Patient. The Eastern Daily Press notes that Ondaatje will also be present at the launch.
Evanna Lynch (Luna Lovegood) will be a keynote speaker at the Reducetarian Summit, which is going to be held in Los Angeles this September, as reported by the website LiveKindly. Lynch, who is vegan and an animal rights activist, will be participating in a fireside chat during the event, according to Brian Kateman, president of the Reducetarian Foundation.
LiveKindly writes that the summit, which will be held September 28 to 30 at the Los Angeles Airport Marriott Hotel, will feature participants from various backgrounds.
The event will unite more than 500 participants from a range of backgrounds such as technology entrepreneurs, plant-based investors, philanthropists, journalists, environmentalists, CEOs, animal advocates, nutritionists, academics, students, and non-profit executives. At the conference, event-goers will be able to engage with roughly 100 speakers, panelists, and exhibitors.
For more information about the Reducetarian Summit, you can visit its website here.
Lynch also discussed eating disorders on a recent episode of her podcast, Chickpeeps, writes Plant Based News. The actress has previously discussed the eating disorder for which she was hospitalized in her youth, and she spoke on the podcast episode about the challenges of discussing veganism in relation to eating disorders.
For so many people, a history of eating disorders is what dissuades them from embracing veganism. This topic obviously won't be for everyone as needless to say having, or having had, an eating disorder is not an inherent part of one's vegan journey.

The idea that veganism is another fancy eating disorder - as someone once told me - pervades in the minds of people who see the lifestyle as restrictive and radical. It's what prevents many people from trying it, so I'd really like to address this topic.
To listen to the episode, you can go here.
Gary Oldman (Sirius Black) has spoken about his favorite scene from the film Darkest Hour, for which he won an Oscar for his portrayal of Sir Winston Churchill. Express writes that Oldman said that his favorite scene was actually one without dialogue.
My favourite scene, there's no words oddly enough, y'know considering it's a film about words and the power of words. I love the scene where Winston is walking down a corridor and he can hear Hitler on the radio.
Darkest Hour is now available on digital download in the UK. It will be released physically on June 4.
The upcoming thriller Tau, in which Oldman stars, is scheduled to begin streaming on Netflix later this month! Dread Central provided a description of the sci-fi film, which is rated R.
The movie follows the tale of Monroe's character, who is the latest victim held captive by Skerin in a killer smart house called Tau. Cooler still is that none other than Gary Oldman provides the voice of the titular advanced artificial intelligence.
The official synopsis is below.
Once a street-smart grifter, Julia is the latest victim kidnapped and held captive in a fatal experiment. The only thing standing in the way of her freedom is TAU, an advanced artificial intelligence developed by Alex, her captor. TAU is armed with a battalion of drones that automate a futuristic smart house. TAU's potential is only limited by his understanding of the world he exists in, but TAU is ready for more. Julia, showing resourcefulness and courage, must race against time to bridge the boundaries between man and machine, connect to TAU and win her freedom before she suffers the same fate as the previous subjects.
Tau will be released on Netflix on June 29.
Robert Pattinson (Cedric Diggory) has been cast in the Netflix feature The King, writes Deadline Hollywood, and the project has already begun filming! The drama, directed by David Michôd, will also star Sean Harris, Ben Mendelsohn, and Lily-Rose Depp, as well as Timothée Chalamet and Joel Edgerton.
Director David Michôd's ('War Machine') drama is based on classic Shakespeare plays 'Henry IV' [Parts 1 and 2] and 'Henry V', in which a young disgraced prince Hal (Chalamet) inherits the crown at a particularly turbulent time in English history and must learn what it means to be a king, guided by his one true friend, Falstaff (Edgerton). The plays take place before, during and after England's military conflict with France at the famous Battle Of Agincourt in 1415, part of the 'Hundred Years' War' between the two nations.
Pattinson will reportedly play The Dauphin.
Clémence Poésy (Fleur Delacour) can be seen in the 2016 film Two Is a Family (also known by its French title, Demain tout commence), which will be shown at cinemas across Australia, beginning June 28.
Samuel (the irrepressible Omar Sy, 'The Intouchables') enjoys an A-list, hedonistic lifestyle on the sun-drenched beaches of the Côte d'Azur. Life is good, until the day former lover Kristin (Clémence Poésy) arrives out of nowhere and deposits the fruits of their tryst – an infant daughter, Gloria – in his care.

Incapable of looking after a baby, Samuel rushes to the UK in an attempt to return the child to her mother, without any luck. He decides to stay in London and, after finding work as a television stuntman, their relationship slowly begins to bloom. When Kristin eventually reappears, Gloria has grown into a bright and effervescent eight year old… and the inseparable father-daughter team finds their connections tested.
For more information about where you can see Two Is a Family in Australia this month, visit the Palace Films website here.
Timothy Spall (Peter Pettigrew) will be seen on screen in 2019 in the drama film The Corrupted. Spall's costar in that film, Sam Claflin, recently spoke about the film at the premiere of Adrift. In The Corrupted, Claflin plays a working-class boxer who is released from prison but ends up getting involved with the head of a crime syndicate, played by Spall.
The Hollywood Reporter provided more information about the film at the time that Claflin's casting was announced.
Hugh Bonneville, David Hayman and Naomie Ackie are also set to star in the British indie, in which Claflin will play an ex-con determined to win back the love and trust of his family. That's after his future was stolen from him by a crime syndicate run by Clifford Cullen (Spall), who has infiltrated the highest levels of politics, finance and police. Claflin's character finds himself caught up in a web of conspiracy and corruption centering around a land grab just before the Olympic Games in London.
Imelda Staunton (Dolores Umbridge) is set to reprise her role as Knotgrass in Maleficent II, writes Entertainment Weekly. While we previously announced that Jenn Murray (Chastity, Fantastic Beasts) would be joining the sequel, little was known about the film. Now that filming has begun, however, Disney has provided more information about the plot.
Angelina Jolie and Elle Fanning are both reprising their roles, and the new film picks up several years after the original, following Maleficent and Princess Aurora as they 'form new alliances and face new adversaries in their struggle to protect the moors and the magical creatures that reside within.'
Emma Thompson (Professor Trelawney) can be seen in the trailer for her new film The Children Act, which is based the novel by Ian McEwan.
The Telegraph posted an exclusive trailer for the film, which you can watch below.
Flickering Myth also posted more about the film, including a synopsis, poster, and numerous stills.
Based on the best-selling novel by Ian McEwan ('Atonement') and brought to the big screen by director Richard Eyre ('Notes on a Scandal', 'Iris'), THE CHILDREN ACT is a compelling and powerful drama telling the story of Fiona Maye (Emma Thompson), an eminent high court judge presiding over ethically complex cases. As the demands of her job cause her marriage to Jack (Stanley Tucci) to reach tipping point, Fiona is asked to rule on the case of Adam (Fionn Whitehead), a brilliant young boy who is refusing a life-saving blood transfusion on religious grounds.

With her private life in turmoil, Fiona finds herself drawn into the case, taking the unorthodox step of halting proceedings in order to visit Adam in hospital. As the two form a profound connection and powerful emotions come to light, Fiona's judgement is put to the test with momentous consequences as she must ultimately decide whether Adam lives or dies.
The Children Act, notes First Showing, premiered at the Toronto International Film Festival last year. The website also explains the significance of the film's title.
The film's title is a reference to a particular law in England: 'When a court determines any question with respect to the upbringing of a child, the child's welfare shall be the court's paramount consideration.'
The Children Act will be released in the United Kingdom and Ireland on August 24.
Harry Potter and the Cursed Child
Jamie Parker
, who originated the role of Harry Potter on the West End and is now reprising his role in the original Broadway cast of
Harry Potter and the Cursed Child
, was recently interviewed by the
New York Times
. The
interview
featured one of Parker's hobbies, archery, which he was practicing during the interview.
Even at the archery range, where he goes to unwind, Parker was able to make a Harry Potter joke or two.
'This is going to be a story about me hospitalizing some innocent bystander,' Mr. Parker said. Happily, the arrow thunked into its target, a green-spotted ball that really had it coming. 'Reparo,' he said.
He also joked, writes the New York Times, that he was ready to play Robin Hood. (If Parker ever does play Robin Hood, you'll be able to find out right here!)
Check out the full interview here.
Fantastic Beasts and Where to Find Them
Most of our coverage of the upcoming film centered on
Ezra Miller
's (Credence Barebone) the Flash has been speculative, since few details about the film have been made public.
Until we know more, Justice League director Zack Snyder has posted a photo from Miller's first costume test for the 2017 film. We Got This Covered reported on the Vero post, which you can check out below.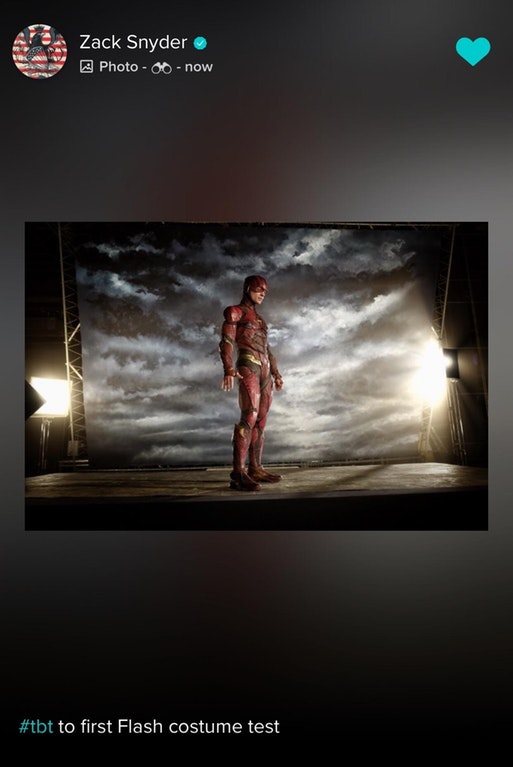 That's all we have for this week's Casting News! Stay tuned for next week's update, and share your thoughts with us in the comments below!