Review and Giveaway: "Harry Potter" Temporary Tattoos from Cinereplicas!
I've been meaning to get a tattoo for ages. I'm not sure if I'll ever pluck up the courage and actually go through with it, but if I ever do, it will certainly be related to Harry Potter.
Now, while I've promised myself that I will not do it before rereading the entire series once again – Muggle life regularly interferes with this requirement of mine – just to be extra sure of the symbol or quote that I will permanently engrave on my body, I always thought of temporary tattoos as a great solution to give me a close idea of what an actual, real tattoo will look like. Thanks to Cinereplicas, I got the chance to do that, and with our awesome giveaway, a few of you will too!
Before you check out my review of the tattoos, here's a quick how-to video that shows how you can easily mix and match tattoos for a magical effect!
On to my review! The Cinereplicas Harry Potter temporary tattoo set comes with 35 different tattoos in four different styles. From the classic, minimalist Deathly Hallows tattoo to detailed, colorful Hogwarts House art, this set has something for everyone.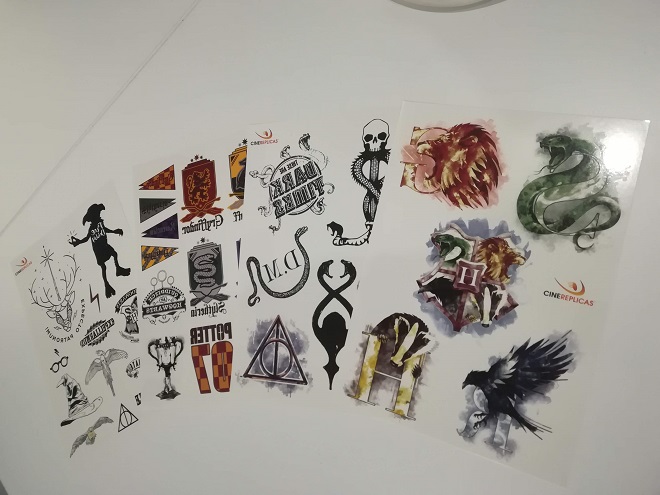 To begin with, I chose a small one to go on my wrist: the lightning bolt above a pair of glasses.
As always, the painless process of getting a temporary tattoo is super quick. You simply need to cut out your favorite, place it on the part of your body you wish to stamp it on, press a damp cloth for 30 seconds, peel the paper off, and voilà! Here's what my first one looks like: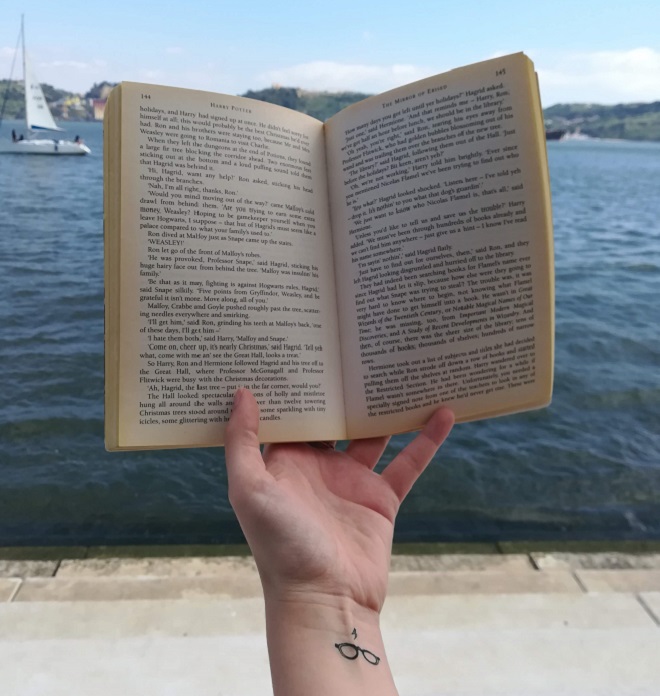 My wrist is one of the spots I'm considering getting a tattoo done, and the result is very lifelike!
I also wanted to try out a bigger tattoo and decided to go for the lovely Snitch right above my ankle. Here it is in all its glory: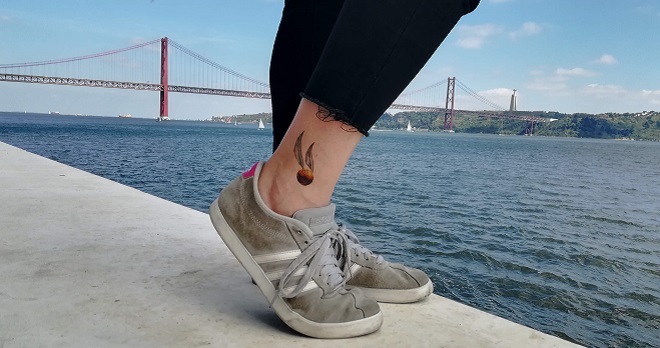 Even though I've always wanted a very discreet tattoo, I must admit that I absolutely love how this one turned out! I honestly wouldn't mind discovering this one again and again every time I looked down at my legs.
As soon as these two wear off some time in the next two to three days, I'm doing the Expecto Patronum tattoo with the stag on my forearm. Who knows, maybe by the time I get a real tattoo, it'll be completely different from what I originally had in mind!
Now, how to win a set of temporary tattoos for your very own? Simply enter our magical giveaway down below!
We are offering up two sets of these fun tattoos, with our contest open to entrants all over the world! Starting today, June 8 and running until 11:59 p.m. on June 22, simply use any one or more of the entry methods below to enter for your chance to win. Winners will be contacted via email after the end of the contest period and will have 24 hours to respond or another winner may be chosen.
If you'd rather not take a chance at having your name randomly selected, you can purchase the tattoo sets here!