Unfogging the Future: Foreshadowing in "Harry Potter and the Sorcerer's Stone" – Part 1
An inherent aspect of the Harry Potter series that made them such a joy to read was J.K. Rowling's meticulous plotting and attention to detail toward every facet of the wizarding world. There was a purpose and causality to even the most seemingly minute plot devices that were sprinkled throughout the series. The interactive nature of Harry Potter made it conducive to the development of a fandom that has endured for years and that continues to blossom.
The Harry Potter novels are extremely rereadable. The series is multifaceted and steeped in subtexts and foreshadowing. I've always been drawn toward crime novels because they're facilitative to active reading. There were many mind-blowing revelations throughout the Harry Potter series. Things that seemed unimportant or irrelevant early on would return in later books. Reading the Harry Potter books for the first time is less than half the journey. The real pleasure of the series is its rereadability. The destinations are endless – the books can be examined through so many lenses, purposes, characters, and themes.
In this series of articles, I'd like to revisit Harry Potter and the Sorcerer's Stone through an intertextual lens. Specifically, I've attempted to draw out all the moments of foreshadowing and interconnectivity with the other six novels in the series. Undeniably, I've probably failed to recognize every example of foreshadowing in the book – no matter how many times you read these books, there's always something new to learn – but I've hopefully been able to draw out the more transparent ones.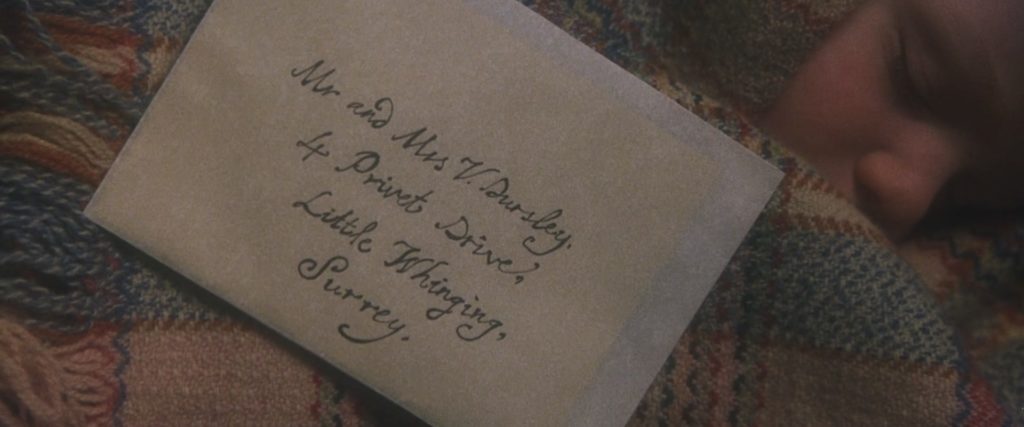 Chapter 1: "The Boy Who Lived"
The opening paragraph of the first chapter in Sorcerer's Stone introduces us to Petunia and Vernon Dursley. Rowling immediately begins to formulate the social dynamics of a world built on division. Petunia is estranged from Lily and doesn't want "Dudley mixing with" Harry – we later learn of an International Statute of Secrecy that exists to segregate wizards from Muggles. Although the Dursleys consider themselves to be "perfectly normal," we see throughout the series that wizards find a lot of Muggle customs to be bizarre. We're also introduced to a couple of wizarding customs – they wear robes and cloaks and correspond with each other via owl post.
We also meet Professor McGonagall in this chapter. Although she might be considered one of the less prejudiced characters in this series, she states that Muggles are "not completely stupid." This display of casual racism demonstrates both the ignorance and arrogance of even the most well-natured wizards and witches.
Petunia is described as spending "much of her time craning over garden fences, spying on the neighbors." In Chapter 33 of Harry Potter and the Deathly Hallows, "The Prince's Tale," we learn that Petunia developed a propensity for spying on people from an early age. As a child, she eavesdropped on Lily and Snape's conversation about Azkaban and Dementors.
We're also introduced to Albus Dumbledore and his Deluminator, or Put-Outer, as it was known then. Dumbledore's nose is described as being "very long and crooked, as though it had been broken at least twice."  We later learn that Dumbledore's broken nose was inflicted by Aberforth, at Ariana's funeral. Dumbledore's letter to Petunia, explaining Harry's situation, was not the first nor the last time that he corresponded with her. In Deathly Hallows, we learn that Petunia begged Dumbledore to let her attend Hogwarts, and in Harry Potter and the Order of the Phoenix, Dumbledore sent Petunia a Howler commanding her to allow Harry to continue living at Privet Drive.
Further, when Dumbledore recognizes McGonagall as the tabby cat sitting on the corner of Privet Drive, he offers her a sherbet lemon. As we come to learn throughout the series, Dumbledore is rather fond of sweets. In Harry Potter and the Chamber of Secrets, "sherbet lemon" is the password to Dumbledore's office. Subsequently, whenever Dumbledore's office makes an appearance in the books, the password to enter it is always the name of a candy.
Significantly, Harry arrives at Privet Drive in Sorcerer's Stone in the same way that he departs from it in Deathly Hallows – on Sirius's motorbike, driven by Hagrid. Sirius's name is mentioned in this chapter. Hagrid explains that Sirius lent him his motorbike. What's not explained in this chapter is the fact that Sirius was resistant to give Harry away to Hagrid. McGonagall asks Dumbledore, "You think it – wise – to trust Hagrid with something as important as this?" Throughout the bulk of the series, we learn to trust Dumbledore's judgment. However, our trust of Dumbledore is challenged in the final two books. In Harry Potter and the Half-Blood Prince, Harry questions why Dumbledore trusts Snape. In Deathly Hallows, Harry wonders whether Dumbledore ever cared about him at all.
Finally, this chapter contains the most meta statement from all of the Harry Potter books:
He'll be famous – a legend – I wouldn't be surprised if today was known as Harry Potter Day in future – there will be books written about Harry – every child in our world will know his name!
How do you think this first chapter in Sorcerer's Stone sets up the rest of the series? Which moment from this chapter stood out most to you upon rereading it?
The Wizard's Voice
provides a critical look at some of the more contentious topics within the
Harry Potter
universe, as well as their interconnectivity to the Muggle world where relevant.
Want more posts like this one? MuggleNet is 99% volunteer-run, and we need your help. With your monthly pledge of $1, you can interact with creators, suggest ideas for future posts, and enter exclusive swag giveaways!
Support us on Patreon