Castium Revelio: Soccer Surprise and a "Dreadful Tale"
by Alyssa Scott · Published · Updated
The cast, crew, and producers of our favorite movies have been busy, and the news keeps on coming! Let's jump right into it; Castium Revelio!
Harry Potter
A promotional image of Helena Bonham Carter (Bellatrix Lestrange) has been released for The Crown Season 3! Metro describes the image of Carter as Princess Margaret perfectly.
Glaring down at a cigarette, the princess is still clearly resentful, bitter and deliciously rebellious. Alongside the picture, Netflix simply captioned the shot: 'Hope.'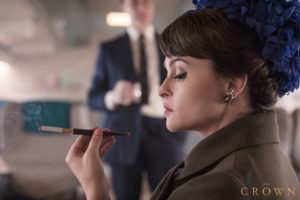 The US-based British TV streaming service, BritBox, has picked up John Cleese's (Nearly Headless Nick) new BBC comedy Hold the Sunset. Hold the Sunset is Cleese's first new TV series in decades, and Anglotopia magazine says that the show has already been renewed for a second season. Check out the trailer for the first season below, coming to BritBox in September.
Roma, the new family drama from Harry Potter and the Prisoner of Azkaban's director, Alfonso Cuarón, "has been set as the Centerpiece movie for the 56th New York Festival," according to Variety.
'I am honored "Roma" has been selected for the Centerpiece slot at this year's New York Film Festival,' said Cuarón. 'NYFF has a longstanding history of celebrating meaningful and compelling filmmaking and it felt right to return to the festival with "Roma" — an incredibly personal, illuminating, and transformative project for me.'
The festival begins September 28, and Roma will be shown on October 5 at Alice Tully Hall.
Warwick Davis (Professor Flitwick) recently "decided he fancied a walk around Abbey Stadium," according to Cambridgeshire Live. He reportedly appeared at the stadium a little after 11:00 a.m., surprising Cambridge United. The team made Davis feel at home in the middle of their preparations for game day against Millwall and gave him a scarf as a souvenir.
Freddie Stroma's (Cormac McLaggen) latest role appears in a recent tweet by Jennifer Lopez. Stroma appears as "Ron" in the new movie Second Act. In the tweet, Lopez says, "This one is near and dear to my heart. It hits theaters November 21 but get your first look at it right here."
David Tennant (Barty Crouch, Jr.) reprised his role as the Tenth Doctor, from Doctor Who, to join the Muppets at the O2 in London. Check him out the video below!
The cast and crew of Mamma Mia! Here We Go Again surprised Dame Julie Walters (Molly Weasley) with a musical celebration of her recent damehood. The Express reports that costar Christine Baranski spoke to the Press Association.
Amanda (Seyfried) and Julie and I were doing the cake-eating sequence and everybody started gathering around and we started thinking, 'What? Is everybody gathering around to watch the filming of the rest of the song?'

But no, suddenly they started playing the music from 'South Pacific', "There Is Nothin' Like a Dame," and we all sang to Julie and she was just in tears.'
Be sure to look for Walters in the movie's trailer below! And don't worry, while even Walters feared a sequel to Mamma Mia! would be awful, she now says, "I think it's better than the first one."
Lionel Wigram, one of the executive producers of many of the Harry Potter films, has obtained the rights to a new fantasy story, The Dreadful Tale of Prosper Redding. Deadline describes the story.
Prosper Redding is a 13-year-old who is from a powerful family that has been around for hundreds of years dating back to the forefathers. The only reason why the family is so wealthy and powerful is that the ancestors made a deal with a demon, Alastor, many years ago, and even betrayed him, trapping him. The demon is unleashed, and is hellbent on taking the family down. As such, Alastor takes possession of Prosper. Despite being evil and terrible, the demon develops a liking for the boy, and the two of them team up to save their own skins...
Wigram appears to be excited about this new acquisition when he speaks of the author's talents. He says, "Alexandra has done a brilliant job in bringing this world to life in the mind's eye. It comes to life in your imagination."

Fantastic Beasts
According to Vogue, Zoë Kravitz (Leta Lestrange) has "been announced as the new face of the Yves Saint Laurent fragrance, Beauté Black Opium."
'I'm so excited to be the new ambassador for such an incredible, bold, iconic fragrance,' says Kravitz. 'Black Opium is a modern legend, and to be able to share its power with a global audience is an honour.'
The Black Opium campaign is currently set to be revealed worldwide on August 18 and will be followed by a visual print and digital campaign.
That's it for this week's Casting News, but we'll have more for you soon! In the meantime, why not check out our archive?