Gellert Grindelwald: The "Deepest, Most Desperate Desire" of Dumbledore's Heart?
The new Fantastic Beasts: The Crimes of Grindelwald trailer has arrived, and with it, a thousand new questions. Perhaps one of the most jaw-dropping moments is when Albus Dumbledore sees Gellert Grindelwald in the Mirror of Erised. An older Dumbledore describes the Mirror's properties to a young and entranced Harry Potter:
It shows us nothing more or less than the deepest, most desperate desire of our hearts" (SS 12).
Clearly, Gellert Grindelwald represents "the deepest, most desperate desire" of Dumbledore's heart. Perhaps the reflection of Grindelwald in the Mirror is a reflection of Dumbledore's noble desire to see him defeated and restore peace to the wizarding world. But then why does Dumbledore express so much reluctance to face Grindelwald? More likely, Gellert Grindelwald himself is Dumbledore's deepest desire, an insubstantial vision of the man he used to know and clearly still loves.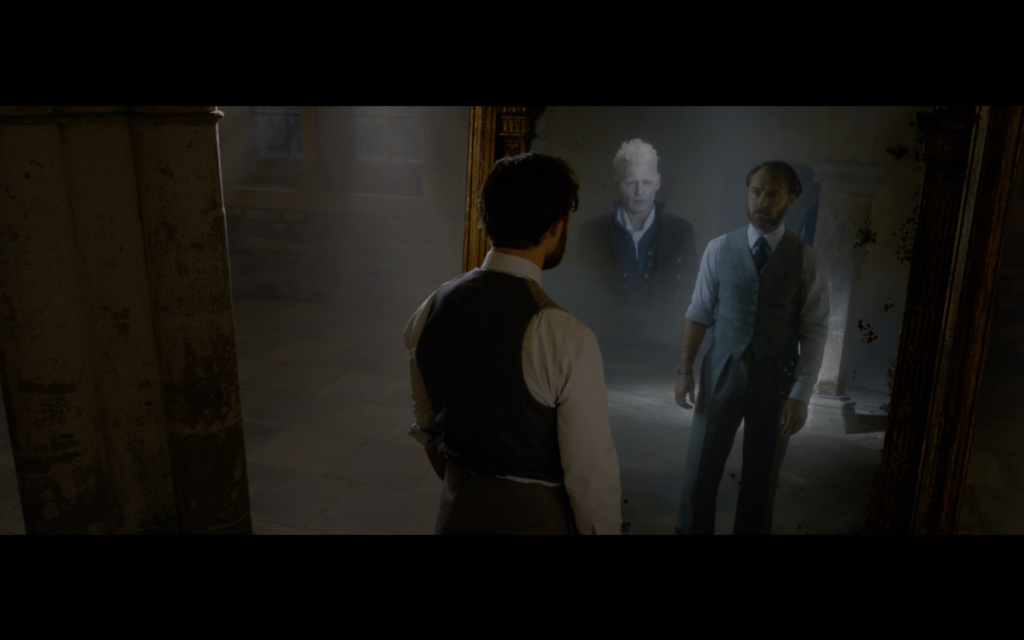 Perhaps the Mirror shows a reformed Grindelwald who repents his mistakes and loves Dumbledore back. Grindelwald was probably the first person whom Dumbledore truly felt understood by. They were young, had similar interests, and were both very intellectual. They were also stuck in a small village with their families when they felt like they could have been doing so much more. It's no surprise that Dumbledore fell in love.
Then again, perhaps a desire to conquer the world with Grindelwald at his side still lingers in Dumbledore. It's clear that those summer months he spent with Grindelwald in his youth, discussing their theories about the Deathly Hallows and plotting wizarding domination "for the greater good" enthralled Dumbledore and gave him purpose. Perhaps part of him still believes in Grindelwald's premise and hopes to change his violent methods by working alongside him again.
Either situation would explain Dumbledore's reluctance to confront Grindelwald. Dumbledore's great desire reflects his great fear. If he desires a reestablished relationship with a reformed Grindelwald, then he fears to confront the truth of Grindelwald's dangerous and irredeemable character. If his greatest desire is to be with Grindelwald and rule at his side as they planned in their youth, then his greatest fear is that he could be so weak as to abandon his responsibilities to the wizarding world the minute he reunites with Grindelwald.
The older Dumbledore was adamant that love is a person's greatest strength – it was this belief that ultimately led to Voldemort's downfall – but perhaps young Dumbledore hasn't yet learned that lesson. Perhaps he is so afraid to stand up to Grindelwald because he still loves him and fears Grindelwald will use that love to destroy him. Dumbledore's love once blinded him to Grindelwald's true nature and their relationship ended in Ariana's death. That the Mirror of Erised shows Grindelwald as Dumbledore's "deepest, most desperate desire" must be the reason behind Dumbledore's reluctance; he is afraid that his love for Grindelwald will blind him again and cost the world many more lives.
Dumbledore's unwillingness to fight Grindelwald for almost two decades after the events of this film seems to indicate that the Mirror has a powerful hold on him. Dumbledore explains the mirror's allure to Harry, possibly from personal experience.
However, this mirror will give us neither knowledge or truth. Men have wasted away before it, entranced by what they have seen, or been driven mad, not knowing if what it shows is real or even possible" (SS 12).
It is the magnetism of the mirror's image, the question of whether it is "real or even possible" to win Grindelwald back, and the fear of losing that possibility that must be holding Dumbledore back in Crimes of Grindelwald. In order for him to confront and defeat Grindelwald, the illusion must be shattered; something must happen to convince Dumbledore that his love is a strength rather than a weakness. The Elder Wand gives its allegiance to the stronger of the two wizards who fight for it, and if there is anything we've learned from the Potter series, magic born of love is stronger than magic born of hatred.
J.K. Rowling has confirmed that by the time Harry discovers the Mirror, Dumbledore sees his family, whole and healed, reflected as his deepest desire. He still wishes he could salvage his past, but he understands now that "it does not do to dwell on dreams and forget to live" (SS 12). Decades later, Albus Dumbledore is still a very sentimental man. He seems to look into the past and hold on to his memories quite often. Dumbledore owns a Pensieve, which he uses to revisit his memories. His eagerness to use the Resurrection Stone and see his family again ended in a curse that hastened his death. All of these things point to how much importance Dumbledore puts on reflecting on the past to interpret the present and future. This makes Grindelwald's appearance in the Mirror of Erised very significant no matter which way you look at it.
Of course, until the movie is released, we can only speculate. Perhaps Dumbledore truly sees Grindelwald wearing "a pair of thick, woolen socks" that Dumbledore loaned him long ago and never got back.