Jude Law Not Trying to Imitate Richard Harris's or Michael Gambon's Versions of Dumbledore
The Harry Potter fandom is buzzing over this fascinating interview with Jude Law released by Entertainment Weekly on Tuesday. Law has confirmed that Dumbledore is not Hogwarts' Transfiguration teacher at this point in the timeline, as was speculated when the trailer was released, and he's revealed some of what J.K. Rowling told him directly about Dumbledore, including his sexuality.
He also explains how he and director David Yates decided to portray Law's own younger version of Dumbledore in Fantastic Beasts: The Crimes of Grindelwald rather than an imitation of Richard Harris's or Sir Michael Gambon's Dumbledores from the Harry Potter films.
I'm sure [Richard Harris and Michael Gambon] were in the back of my mind, because I'd seen their work and admired both of them as actors, greatly. I talked with [director] David Yates about that and we both decided that it wasn't necessary to do an impersonation of one of them as a younger man. This is a man with almost 100 years ahead of him before he became that character, so we wanted to look at who he was in this moment and construct our own version.
Law is a bit flattered at how his character is always being referred to as "young Dumbledore" when he, like Law himself, is in his 40s.
It makes me laugh when he's called 'Young Albus' because I'm 45, so I'm more in the middle of a midlife crisis, but I'm happy to hold onto that as long as I can!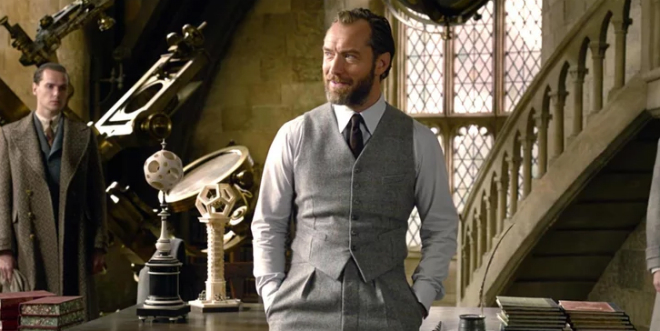 When asked how much say he had in developing Dumbledore's look, Law says he was happy to defer to the vision of costume designer Colleen Atwood, who won an Academy Award last year for her spectacular work on Fantastic Beasts and Where to Find Them.
There's no one quite like her in the world of film. She has a very clear vision. It was open and collaborative, there were tweaks here and there, but I was happily corralled into the overall look, which was clear from the get-go.
You can check out the full interview here, in which Law certainly seems to enjoy teasing us on everything we have yet to see from Dumbledore.
There's a lot you don't know about Albus in this film. And there are certain restrictions in storytelling — you'll see, it all makes sense. You don't see him in full flow yet.
With Fantastic Beasts: The Crimes of Grindelwald coming out in November and three more films in the series to come after that, we can't wait to learn everything we possibly can about Albus Dumbledore!